Why Did Nordstrom Inc. Shares Jump 11.5% in March?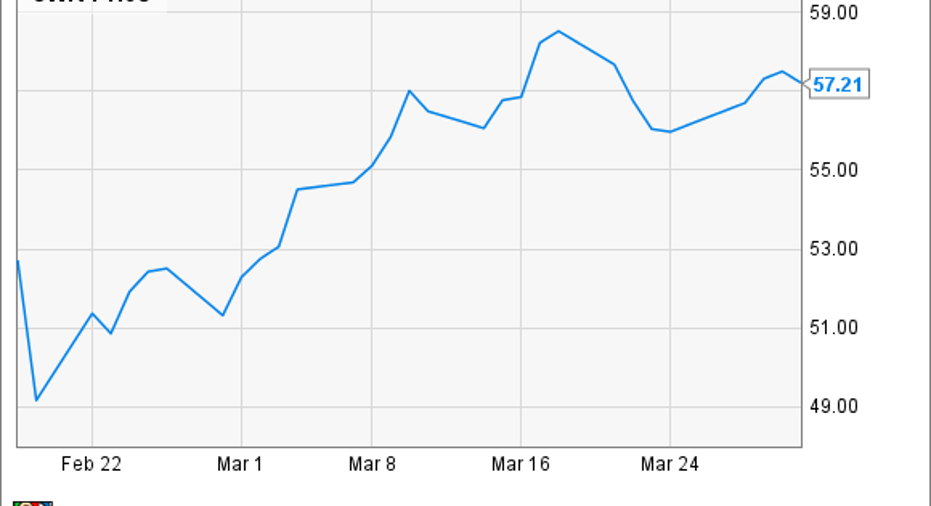 A strong fourth quarter where the company met its stated growth goals has causedNordstrom stock to move steadily higher since it reported earnings on Feb. 18.
What: Sometimes simply doing what it says it will do can bring a company the market's confidence. In this case, Nordstrom reportedfourth-quarter net sales growth of 5.2% and same-store sales growth of 1%, both of which were in line with its projections. The retailer also reported a full-year net sales increase of 7.5%, along with a comparable stores sales increase of 2.7%, in line with the company's outlook of 2.5% to 3%.
That was enough to send its shares on a steady climb that continued throughout March. Nordstrom shares closed on Feb. 29 at $51.32 but finished March at $57.21, an 11.5% jump,according to data provided by S&P Global Market Intelligence.
Source: YCharts.com
So what:Nordstrom had set multiple goals heading into the year and it made good progress on them. This included gaining market share in both its full-price and off-price businesses, grown itsNordstromrack.com/HauteLook brands by approximately 50%, and opening a thirdfulfillment center inElizabethtown, Pennsylvania, located within two-day delivery of approximately half the population in the United States.
The company also opened its first international flagship store inVancouver, B.C., and returned$2.4 billionto shareholders through share repurchase and dividends.
Now what: The high-end retail chain has changed its strategies to better match the market. Going forward it has plans to continue to reduce operating expenses and capital expenditures. But it will not be sitting still, as the company plans to open a number of new stores this year. These includethree new full-line stores, 20 newNordstrom Rackstores, one full-line store relocation, and twoNordstrom Rackstore relocations.
Because of these moves the company expects full-year 2016 net sales to increase by 3.5% to 5.5%, while it has more modest goals of 0%-2% same-store sales gains.
All things considered, the past year showed that the company could adapt its model to savvier shoppers, heavier online competition, and increasing pressure from rival retailers.
The article Why Did Nordstrom Inc. Shares Jump 11.5% in March? originally appeared on Fool.com.
Daniel Kline has no position in any stocks mentioned. Nordstrom is generally out of his price range when it comes to clothes. The Motley Fool recommends Nordstrom. Try any of our Foolish newsletter services free for 30 days. We Fools may not all hold the same opinions, but we all believe that considering a diverse range of insights makes us better investors. The Motley Fool has a disclosure policy.
Copyright 1995 - 2016 The Motley Fool, LLC. All rights reserved. The Motley Fool has a disclosure policy.