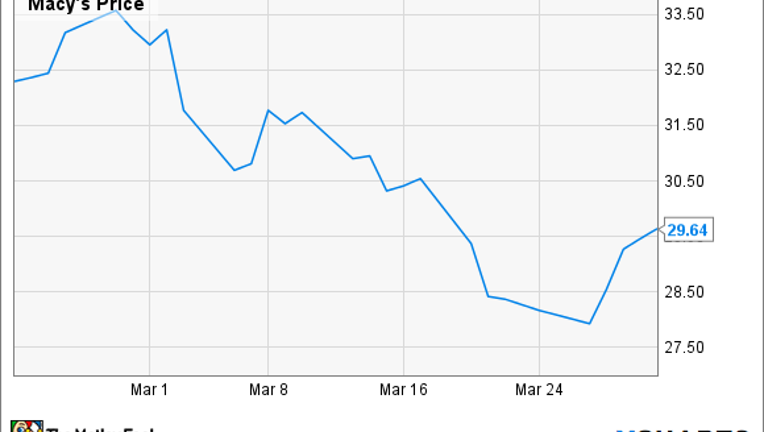 Macy's (NYSE: M) shareholders need some good news, and they didn't get it in late February when the company reported fourth-quarter and full-year results. That was expected, but it was still enough to send the struggling retail chain's stock steadily downward.
What happened?
The retailer, which has been closing locations, reported that Q4 sales dropped 4% to $8.51 billion over the same quarter in 2015. In addition, comparable-store sales fell by 2.7%. Total sales for 2016 declined to $25.77 billion, a 4.8% drop from the previous year, and full-year same-store sales were down 3.5%.
These were not shocking losses, but they continue to tell the story of a company in decline. That was more than enough to send shares trending downward from the reporting date of Feb. 21 through March (although they did bounce back a little toward the end of the month, as you can see below). After opening March at $33.48, shares closed the month at $29.64, an 11% drop, according to data provided by S&P Global Market Intelligence:
Macy's share price. Image source: YCharts.
So what
Despite the chain's ongoing problems, Macy's CEO Terry J. Lundgren keeps putting on a brave face. In the Q4 earnings release, he explained why, despite the sales declines, things are actually moving in the right direction:
The CEO also noted that the chain has made progress "rightsizing" its store portfolio and changing its management structure.
Macy's has been shrinking its store count. Image source: Macy's.
Now what
Macy's is essentially in "put up or shut up" mode. The company says it's on track, but it needs to show investors that there is a bottom to its sales slide.
The question is whether there remains a place for a traditional department store in the current retail world. Macy's problem may be that it had too many locations, and too little focus on digital. If it can prove that, then its share price will stabilize. Otherwise, this could be a story that starts to get very ugly, with an unhappy ending for everyone involved.
10 stocks we like better than Macy'sWhen investing geniuses David and Tom Gardner have a stock tip, it can pay to listen. After all, the newsletter they have run for over a decade, Motley Fool Stock Advisor, has tripled the market.*
David and Tom just revealed what they believe are the 10 best stocks for investors to buy right now... and Macy's wasn't one of them! That's right -- they think these 10 stocks are even better buys.
Click here to learn about these picks!
*Stock Advisor returns as of April 3, 2017
Daniel Kline has no position in any stocks mentioned. The Motley Fool has no position in any of the stocks mentioned. The Motley Fool has a disclosure policy.