Why Did Kinder Morgan Inc.'s Stock Slump 11.2% in October?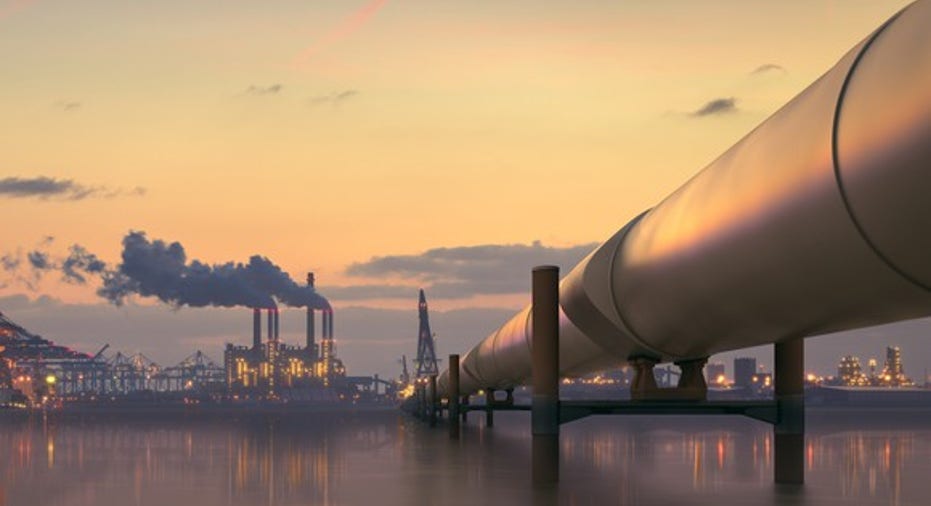 Image source: Getty Images.
What happened
After rallying for much of the year, Kinder Morgan (NYSE: KMI) gave back some gains in October, sliding double digits for the month. While the stock attempted a comeback after the company reported solid third-quarter earnings, it quickly gave up those gains:
So what
The pipeline giant's October slide started picking up speed early on after an analyst at Stifel downgraded the stock from buy to hold, citing the valuation as a result of a nearly 50% rebound since the start of the year. While Stifel thought that the company took critical steps forward, especially on improving its balance sheet, it believed that the market had already baked those into the stock price. Further, it was concerned that the company would deliver a meager 2% EBITDA (earnings before interest, taxes, depreciation, and amortization) growth in 2017 due to the recent sale of a 50% stake in its Southern Natural Gas pipeline to Southern Company (NYSE: SO).
That said, Kinder Morgan's stock bounced after the company reported third-quarter results that were right on target. Management noted that, while distributable cash flow was down 4.3% year over year to $1.1 billion, earnings were basically in line with expectations. Because of that, it was reaffirming its full-year outlook for distributable cash flow, though itwas cutting guidance for adjusted EBITDA a bit due to the impact of the Southern Company deal.
Analysts liked the quarter, with Credit Suisse, for example, upgrading shares from neutral to outperform. Meanwhile, Stifel reversed its earlier downgrade and moved the stock back up to buy citing the potential that the company could joint venture its Trans Mountain expansion project to accelerate its ability to return more cash to investors. Additional analysts piled in with upgrades, most citing the growing likelihood that the company would give its investors a significant dividend boost by mid-2018 at the latest.
Now what
There's no one catalyst to point to as the culprit behind Kinder Morgan's October sell-off, other than possible profit taking after the stock entered the month up 50% for the year. Because of that, it could be a good time for long-term investors to pick up shares in anticipation of the growing possibility of a big dividend increase in the future.
Find out why Kinder Morgan is one of the 10 best stocks to buy now
Motley Fool co-founders Tom and David Gardner have spent more than a decade beating the market. (In fact, the newsletter they run, Motley Fool Stock Advisor, has tripled the market!*)
Tom and David just revealed their ten top stock picks for investors to buy right now. Kinder Morgan is on the list-but there are nine others you may be overlooking.
Click here to get access to the full list!
*Stock Advisor returns as of November 7, 2016
Matt DiLallo owns shares of Kinder Morgan and has the following options: short January 2018 $30 puts on Kinder Morgan and long January 2018 $30 calls on Kinder Morgan. The Motley Fool owns shares of and recommends Kinder Morgan. Try any of our Foolish newsletter services free for 30 days. We Fools may not all hold the same opinions, but we all believe that considering a diverse range of insights makes us better investors. The Motley Fool has a disclosure policy.