Why Did J.C. Penney Stock Gain 10% in November?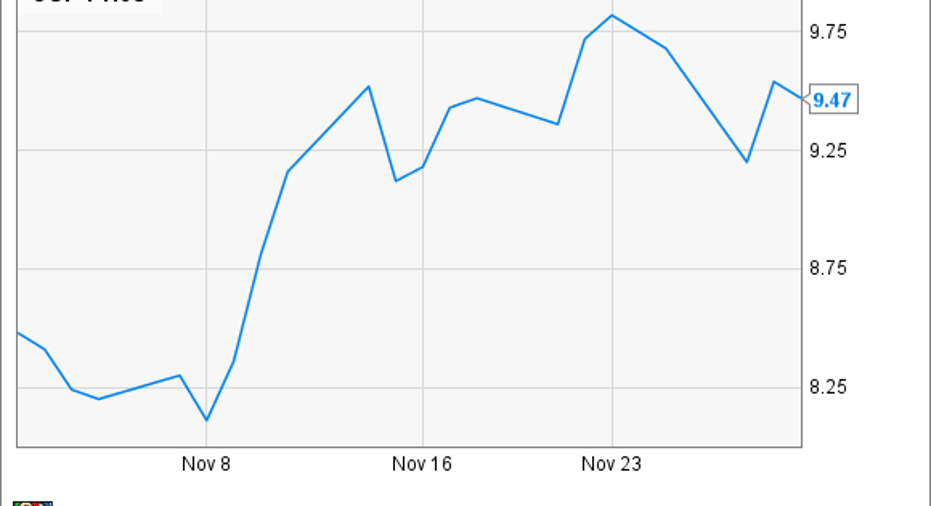 The fact that J.C. Penney (NYSE: JCP) not only still exists but has thrived comes as a surprise to many who put it on lists of companies that would not survive just a few years back.
The company still has work to do, but it has come a long way since those dark days. Now, while its rival Sears clings to life, J.C. Penney heads into the Christmas season having delivered a very strong third quarter.
Image source: YCharts.com.
What happened
In the world of retail, given the difficult industry environment that J.C. Penney currently faces along with its own company-specific challenges, success is a bit relative. The company reported comparable sales that were down 0.8% for the third quarter. But the chain improved its net loss by 42% versus the prior-year period, to $67 million.
Investors clearly took that as a sign the company continues to move in the right direction. Shares in J.C. Penney opened November at $8.57 but climbed to $9.47 at market close on the last day of the month, a 10.5% gain, according to data from S&P Global Market Intelligence. The gains, as you can see on the chart above, largely occurred after the company reported earnings on Nov. 11.
So what
While the results are not stellar, they reflect continued improvement. CEO Marvin Ellison also noted in his comments in the earnings release that the company moved into a positive sales-growth comparison in October, which bodes well for the holiday season.
"We view our October sales results -- specifically our acceleration in the last two weeks of the month -- and the benefit from appliances as examples of what we expect for the balance of the fourth quarter," he said. "Despite experiencing softness in apparel sales, we are continuing to improve the bottom line of our business thanks to the commitment and hard work of our over 100,000 Associates."
Now what
Everything that happened in Q3 and the quarters leading up to it can be wiped out by a bad Q4 experience. Ellison does not expect that, and J.C. Penney has been very aggressive this holiday season when it comes to pricing and using its stores as a place for customers to pick up online orders.
It appears that J.C. Penney has turned the corner. A solid Q4 can cement that position and build upon the optimism that pushed the department store's stock higher in Q3.
10 stocks we like better than J.C. Penney When investing geniuses David and Tom Gardner have a stock tip, it can pay to listen. After all, the newsletter they have run for over a decade, Motley Fool Stock Advisor, has tripled the market.*
David and Tom just revealed what they believe are the 10 best stocks for investors to buy right now... and J.C. Penney wasn't one of them! That's right -- they think these 10 stocks are even better buys.
Click here to learn about these picks!
*Stock Advisor returns as of Nov. 7, 2016
Daniel Kline has no position in any stocks mentioned. He can't remember the last time he was in a J.C. Penney unless he was cutting through at a mall to get to his car.
The Motley Fool has no position in any of the stocks mentioned. Try any of our Foolish newsletter services free for 30 days. We Fools may not all hold the same opinions, but we all believe that considering a diverse range of insights makes us better investors. The Motley Fool has a disclosure policy.