Why Did Intel Corporation Launch A $15 Internet of Things Computer?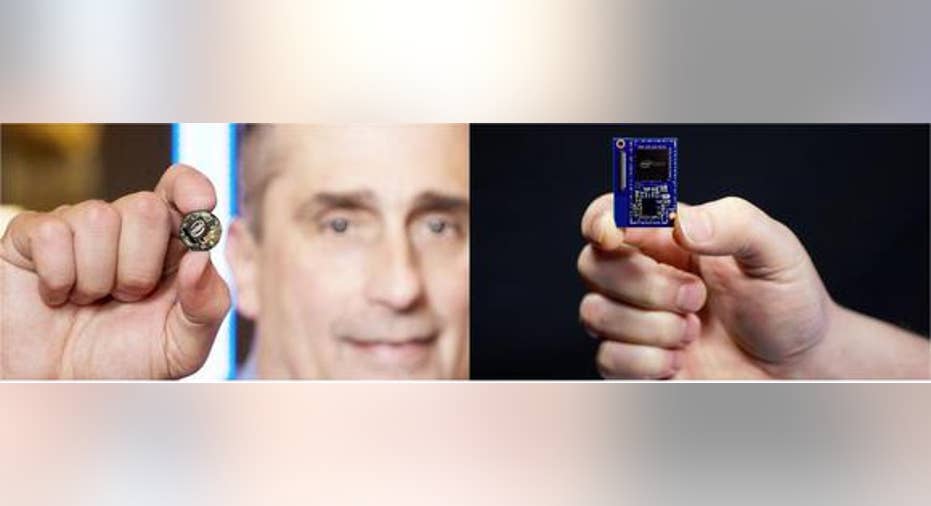 Intel recently started shipping the Quark Microcontroller Developer Kit D2000, a tiny single-board computer for Internet of Things (IoT) devices like wearables, smart appliances, home automation products, and industrial equipment. The $15 board sports a Quark D2000 microcontroller running at 32MHz, a six-axis accelerometer, a magnetometer, a temperature sensor, a single USB 2.0 port, a coin cell battery slot, and a 5-volt power input. Developers can connect additional sensors to create a wide variety of connected devices.
Image source: Intel.
Why is Intel selling $15 computers?The Quark D2000 board complements several of Intel's other IoT-focused boards. The button-sized Curie, which is also powered by a 32MHz Quark processor, is specifically designed to be placed in wearable devices. The SD-card sized Edison, which runs on a more powerful Atom processor, can be installed in a wide variety of everyday objects.
These three modules aren't aimed at mainstream customers -- they target developers who want to create connected IoT products. To raise mainstream awareness of these modules, Intel opened IoT workshops across the world and even launched a reality TV show, America's Greatest Makers. These efforts were aimed at pulling developers away from ARM , which licenses the chips used in most IoT developer boards today. Intel previously lost the smartphone market to ARM because ARM licensed its low-power chip designs to a wide variety of OEMs. Intel doesn't want to lose the fledgling IoT market in the same way.
Intel's Curie (L) and Edison (R). Image source: Intel.
That's why Intel formed a dedicated IoT business unit in 2013. Revenue at thatunit rose 7% to $2.3 billion in 2015, thanks to double-digit growth in the retail, transportation, and video segments. Although that total accounted for just 4% of Intel's 2015 revenue, Intel believes that percentage will rise in the future and complement its data center business by feeding data from connected devices to servers.
But Qualcomm has similar plansUnfortunately, ARM licensee Qualcomm , the biggest mobile chipmaker in the world, also has similar ambitions. Qualcomm sells low-end versions of its Snapdragon chips for IoT devices, single-computer boards, and new IoT chips gained through its $2.4 billion acquisition of CSR last year. Microsoft partnered with Qualcomm last year to ensure that Windows 10 IoT Core worked on its DragonBoard development board, just as it did with another popular ARM-powered single-board computer, the Raspberry Pi 2.
Qualcomm's DragonBoard 410c. Image source: Qualcomm.
Microsoft hasn't extended that same support to Intel's boards. It previously offered Windows 10 IoT Core for Intel's Atom-powered Galileo board, but endedsupport last November because it didn't "meet the minimum hardware requirements." Microsoft also hasn't announced any Windows 10 IoT support for the Edison.
Intel's IoT devices run their own real-time operating system, and they favor power consumption over the processing power needed to run Windows 10 IoT. Therefore, the new Quark D2000 board shouldn't be directly compared to higher-powered board computers like the Raspberry Pi. However, Microsoft's support for ARM-based boards instead of x86 ones raises troubling questions about Intel's future in the IoT market. Microsoft is also a member of the AllSeen Alliance, a Qualcomm-led consortium which uses the open source AllJoyn framework forIoT communications. Intel leads a rival group, the Open Interconnect Consortium, which has big backers but remains smaller than the AllSeen Alliance.
The IoT battle is just beginningIoT chip sales still account for small percentages of Intel and Qualcomm's overall revenue, but that could significantly change over the next decade. As the PC and mobile markets become saturated, both chipmakers will continue to promote their SoCs to companies which make wearables, connected cars, smart appliances, or other gadgets.
Although the margins for IoT chips are much lower than those of pricier data center, PC, or mobile chips, both companies plan to offset those lower returns with higher sales volume. Intel believes that the number of connected devices worldwide will soar from 15 billion in 2015 to 200 billion by 2020. If it can prevent ARM from dominating that market, its IoT business could grow much bigger.
For now, Intel is focusing on capturing developer mindshare with new boards, workshops, promotions and shows. Whether or not these strategies can protect it from Qualcomm's massive market clout, however, remains to be seen.
The article Why Did Intel Corporation Launch A $15 Internet of Things Computer? originally appeared on Fool.com.
Leo Sun owns shares of Qualcomm. The Motley Fool owns shares of and recommends Qualcomm. The Motley Fool recommends Intel and Microsoft. Try any of our Foolish newsletter services free for 30 days. We Fools may not all hold the same opinions, but we all believe that considering a diverse range of insights makes us better investors. The Motley Fool has a disclosure policy.
Copyright 1995 - 2016 The Motley Fool, LLC. All rights reserved. The Motley Fool has a disclosure policy.