Why Did HP Inc. Stock Gain 15% in March?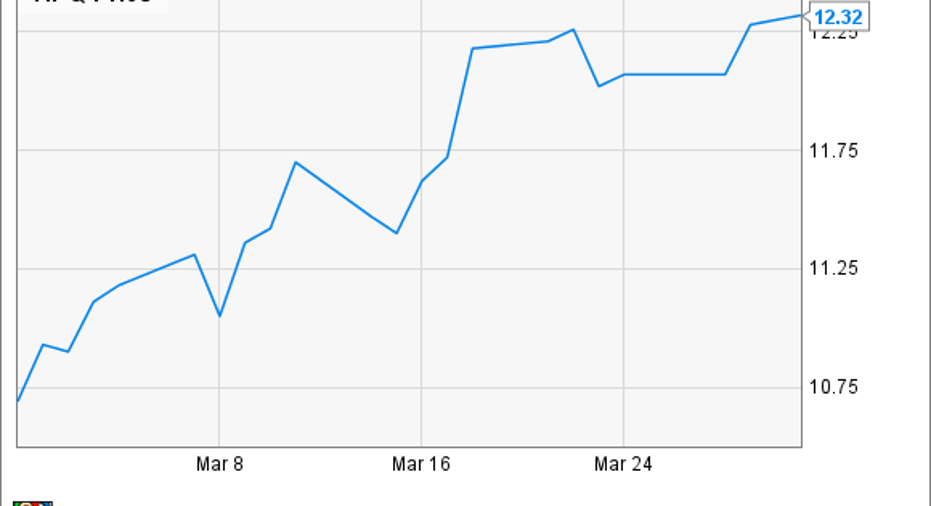 In its first quarter as an independent company,HP met its relatively modest goals despite a weak market for its lineup of printers and personal computers.
Image source: YCharts.com.
What: Though a lot of work remains to be done, investors clearly liked that HP at least performed within the range of expectations it had set for itself. For Q1 2016, the company delivered net earnings per share (EPS) from continuing operations of $0.36, down from $0.41 during the same period a year ago but above its previously provided outlook of $0.27 to $0.32.
That was enough to set its share price on an upward climb throughout the month of March. After closing on Feb. 29 at $10.69 HP's share price finished the month at $12.32, a 15.24% gain, according to data provided by S&P Global Market Intelligence.
So what:The market has shown confidence that this half of the former Hewlett-Packard can ultimately succeed even though its core markets of printing and personal computing are challenging to put it mildly. CEO Dion Weisler clearly believes that as well,but he was careful to manage expectations in his remarks in the earnings release. As he said, "We have a clear strategy that leverages our strengths, and we are focused on execution, taking cost out of the business and delivering innovations that will amaze our customers and partners. Although we have some tough quarters ahead, I am confident in the future."
Now what: Weisler has been very careful to make it clear to investors that the company has a lot work ahead of it to remain viable in the long run. He has been especially direct in noting that changing consumer habits in printing and personal computing are long-term issues that require major operational changes.
Still, he expects to keep the company profitable and HP has forecast GAAP diluted net EPS from continuing operations to be in the range of $1.52 to $1.62 in 2016. Hitting those numbers will require continued evolution, but its first report as a stand-alone company shows that those results are certainly possible.
Weisler has a realistic attitude and a steady approach. He knows what needs to be done and has so far shown he can execute. That may get tougher going forward, but so far, he seems like the right CEO to steer HP through the next few challenging years as it tries to find a place in a changing market.
The article Why Did HP Inc. Stock Gain 15% in March? originally appeared on Fool.com.
Daniel Kline has no position in any stocks mentioned. He very rarely prints anything anymore. The Motley Fool has no position in any of the stocks mentioned. Try any of our Foolish newsletter services free for 30 days. We Fools may not all hold the same opinions, but we all believe that considering a diverse range of insights makes us better investors. The Motley Fool has a disclosure policy.
Copyright 1995 - 2016 The Motley Fool, LLC. All rights reserved. The Motley Fool has a disclosure policy.