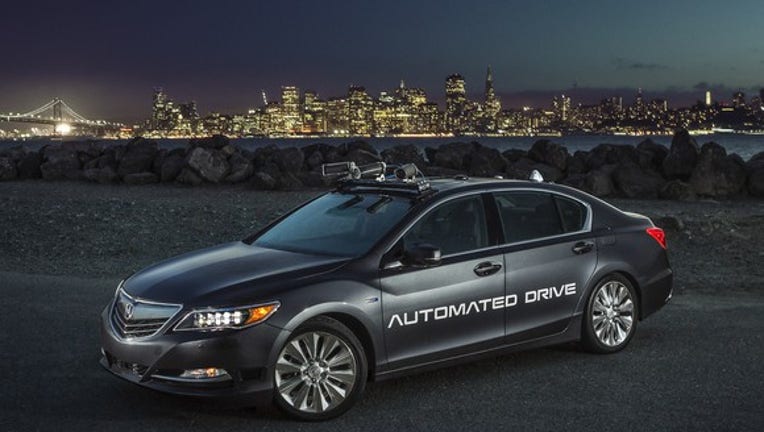 Honda(NYSE: HMC) said on Wednesday that it is "entering into formal discussions" with Waymo, the Alphabet (NASDAQ: GOOG) (NASDAQ: GOOGL) company formerly known as the Google Self-Driving Car Project, about a tie-up that could put Waymo's technology into some Honda vehicles.
What Honda said about its discussions with Waymo
The two companies are discussing a collaboration similar to the one that Waymo entered into with Fiat Chrysler Automobiles (NYSE: FCAU) earlier this year (when it was still a Google project.)
Under that deal, Waymo and FCA engineers and technical experts worked together to integrate the Waymo technology into FCA's Chrysler Pacifica Hybrid minivans. One hundred of the Waymo-ized Pacificas will join Waymo's on-road test fleet early next year.
100 Chrysler Pacifica Hybrids will soon join Waymo's test fleet. Image source: Fiat Chrysler Automobiles.
Honda said that its collaboration could "initially" provide Waymo with Honda vehicles modified along similar lines. But Honda's statement hints that the collaboration could go beyond that. After noting that Honda is already developing its own self-driving technology, it said the tie-up "could allow Honda R&D to explore a different technological approach to bring fully self-driving technology to market."
Why announce discussions when there's no deal yet?
It's a little odd for companies to put out a press release announcing that they're beginning discussions about a collaboration. But Honda did, and the announcement clearly had Waymo's blessing. Why?
I think both companies get some benefit from letting the world know that they're in serious talks about a collaboration.
For Honda, the announcement lets investors and other potential technology partners know that the company is serious about incorporating self-driving technology into its products sooner rather than later.Honda has its own self-driving research projectunderway, but a collaboration with Waymo could give it a big boost -- albeit at a cost.
An Acura sedan with a prototype version of the self-driving system that Honda has been developing in-house. Image source: Honda Motor Co., Ltd.
All of the established automakers are under considerable pressure to show that they can keep up with potentially disruptive technology companies entering the automotive space. Honda hasn't had much to show recently; this announcement could put it back in the forefront of some tech-minded investors' minds.
It's also possible that the timing of this announcement is related to Honda's product plans. Honda is expected to reveal an all-new version of its Odyssey minivan at the North American International Auto Show (NAIAS) in Detroit in January. Given Waymo's established interest in minivans and apparent intent to start a ride-hailing service, it's very possible that any collaboration will be centered on the new Odyssey.
So why did Waymo play along? Waymo just last week became a separate company under the Alphabet corporate umbrella, andreports have said that it plans to launch a ride-hailing service using semi-autonomous Chrysler minivans late next year. That would be a big step forward for its relationship with FCA, and suggests a deeper tie-up between the two companies, maybe even an exclusive one. (Waymo CEO John Krafcik has made it clear that the company has no intention of building cars on its own.)
I think Waymo might want the world to know that it's not bound to an exclusive relationship with FCA -- or put another way, it's letting other automakers beyond Honda know that it's open for business.
What's next for Honda and Waymo?
That will presumably depend on how these "formal discussions" pan out. A statement like this is a strong hint that both companies are inclined to do a deal, but that perhaps the specifics and limitations of the deal are still being debated.
We'll have to wait and see, but it seems more likely than not that Honda will soon be working with Waymo in some capacity. We might learn more next month at NAIAS, where the new Odyssey will be revealed -- and where Waymo's Krafcik is scheduled to make an appearance.
10 stocks we like better than Honda When investing geniuses David and Tom Gardner have a stock tip, it can pay to listen. After all, the newsletter they have run for over a decade, Motley Fool Stock Advisor, has tripled the market.*
David and Tom just revealed what they believe are the 10 best stocks for investors to buy right now... and Honda Motor wasn't one of them! That's right -- they think these 10 stocks are even better buys.
Click here to learn about these picks!
*Stock Advisor returns as of Nov. 7, 2016
Suzanne Frey, an executive at Alphabet, is a member of The Motley Fool's board of directors. John Rosevear has no position in any stocks mentioned. The Motley Fool owns shares of and recommends Alphabet (A shares) and Alphabet (C shares). Try any of our Foolish newsletter services free for 30 days. We Fools may not all hold the same opinions, but we all believe that considering a diverse range of insights makes us better investors. The Motley Fool has a disclosure policy.