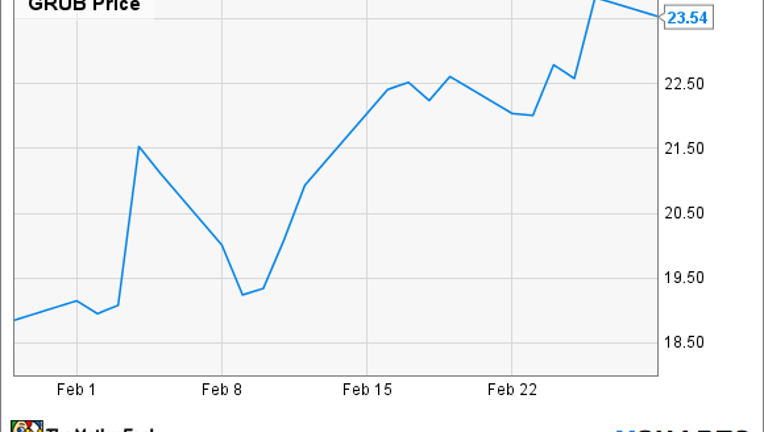 Data byYCharts
A strong fourth quarter sent GrubHub stock soaring in February as investors bid the stock 25% higher, according to data provided by S&P Global Market Intelligence.
What: The food deliveryapp and service reported fourth quarter revenue of $100 million, a 36% year-over-year increase. GrubHub also saw a 34% gain in active diners, while daily average users were up 19% to 241,800, up 19% from the year-ago quarter.
"The fourth quarter capped off a strong year for Grubhub. We generated a record $643 million in gross food sales during the quarter and $2.4 billion during the year," said CEO Matt Maloney. He continued:
So what: The fourth quarter numbers reverse a pretty steady year-long decline. Despite the February gains, GrubHub shares are still down about 50% from their 2015 highs. However,, these recent results were encouraging as they showed that the company has at least begun to recover. It might be too early to say the ship has been righted -- or even that the business model has been proven -- but management is making progress.
Now what: Total 2015 revenue came in at $361.8 million, a 43% gain over the previous year. The company expects to build on its promising fourth quarter quarter, guiding to $109 to $112 million in first quarter revenue and $445 to $465 million in full-year sales.
Those would be significant gains, further supporting the idea that the company has turned the corner and established itself as a player for years to come.
The article Why Did GrubHub Inc Stock Gain Nearly 25% in February? originally appeared on Fool.com.
Daniel Kline has no position in any stocks mentioned. He uses GrubHub to order from the same sushi place nearly every week. The Motley Fool has no position in any of the stocks mentioned. Try any of our Foolish newsletter services free for 30 days. We Fools may not all hold the same opinions, but we all believe that considering a diverse range of insights makes us better investors. The Motley Fool has a disclosure policy.
Copyright 1995 - 2016 The Motley Fool, LLC. All rights reserved. The Motley Fool has a disclosure policy.