Why Did Gap Inc Stock Drop 22% in May?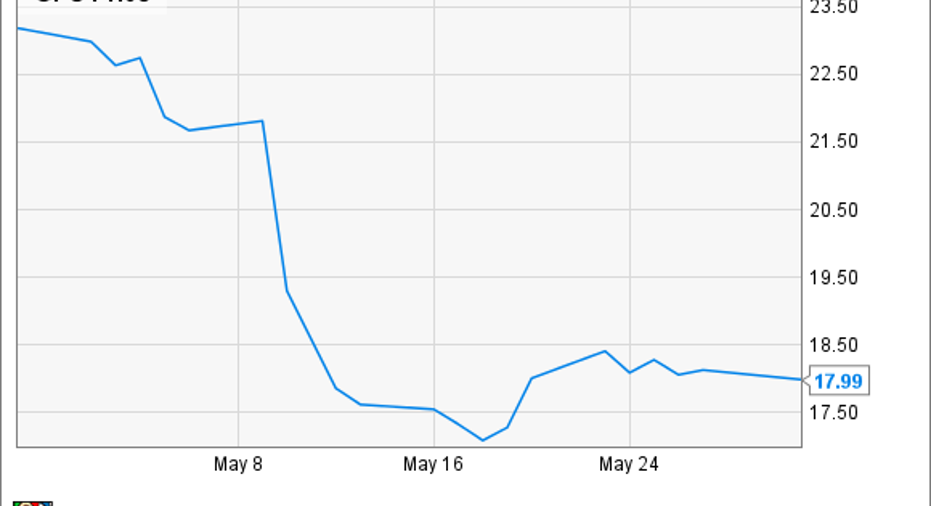 What: Not enough customers have been falling in to Gap (NYSE: GPS).
Shares in the retailer began a steady decline on May 9, when the retailer announced that Q1 sales had fallen to $3.44 billion, compared with $3.66 billion for the first quarter last year. That pushed the company's stock, which closed April at $23.19, down 22.24% in May, closing the month at $17.99, according to data from S&P Global Market Intelligence.
Image source: YCharts.com.
So what: For Gap, this is not just a one-time dip in sales. The company has acknowledged that it needs to make changes to "better position the company for improved business performance and to build for the future." To do that, the company is "identifying opportunities to streamline its operating model to be more efficient and flexible, while more fully exploiting its scale advantage."
Gap also plans to examine its Banana Republic and Old Navy brands outside North America "in order to sharpen its focus on geographies with the greatest potential."
Now what: If admitting that you have a problem is the first step, then Gap has at least started on the road to recovery.
"Our industry is evolving and we must transform at a faster pace, while focusing our energy on what matters most to our customers," said CEO Art Peck. "We are committed to better positioning the business to recapture market share in North America and to capitalizing on strategic international regions where there is a strong runway for growth."
The challenge, of course, is that some of the reason the chain has struggled is that consumers have changed how they shop. Part of Gap's problem is normal cyclical fashion trends, but the bigger issue is that shoppers are increasingly going online. That's not likely to change, which puts the company at a big disadvantage.
Gap knows it has a problem, and that's important, but this is not going to be an easy fix for the company. A turnaround is possible, but it's going to be a long road.
The article Why Did Gap Inc Stock Drop 22% in May? originally appeared on Fool.com.
Daniel Kline has no position in any stocks mentioned. He used to think The Gap was awesome, but that was in 1990. The Motley Fool has no position in any of the stocks mentioned. Try any of our Foolish newsletter services free for 30 days. We Fools may not all hold the same opinions, but we all believe that considering a diverse range of insights makes us better investors. The Motley Fool has a disclosure policy.
Copyright 1995 - 2016 The Motley Fool, LLC. All rights reserved. The Motley Fool has a disclosure policy.