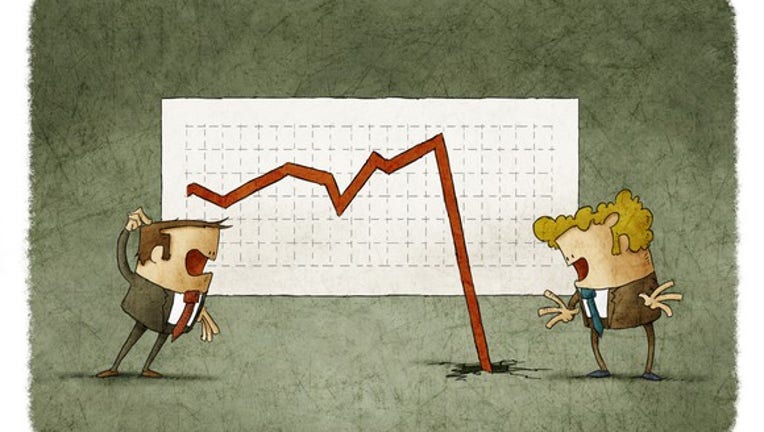 What happened
Shares of dry-bulk cargo shipper DryShips (NASDAQ: DRYS) are down 12% as of 3:45 p.m. EDT.
So what
The question everyone is asking is: Why?
It's not an earnings report that's to blame. Although DryShips' most recent earnings were bad, that news is already three weeks old. Nor is it Wall Street's fault. No one has upgraded or downgraded DryShips stock in months.
Fact is, the most recent news item involving DryShips was the company's own press releaseyesterday, announcing that the company has secured a "senior secured credit facility" from ABN AMRO bank and the Export-Import Bank of Korea for $150 million. Far from bad, that actually seemed like good news, inasmuch as it gives DryShips the cash it will need to at least partly finance the purchase of four very large gas carriers that DryShips has on order.
Why is DryShips stock down again today? That's a real head-scratcher. Image source: Getty Images.
Now what
So if there's no recent bad news about DryShips, and there is at least one arguably good piece of recent news on the company, then why is the stock down so much today? The answer I fear, is as obvious as this:DryShips stock is very volatile stock.
It can't be otherwise -- with a share price of only $2.40, every penny's worth of change in stock price equates to nearly a half-percent movement in the stock. Plus, with a market capitalization of less than $24 million, it doesn't take a lot of investor money to move DryShips stock up (or, like today, down).
With DryShips, investor sentiment really is a self-fulfilling prophecy. And DryShips stock is going down because investors think it will keep going down.
10 stocks we like better than DryShipsWhen investing geniuses David and Tom Gardner have a stock tip, it can pay to listen. After all, the newsletter they have run for over a decade, Motley Fool Stock Advisor, has tripled the market.*
David and Tom just revealed what they believe are the 10 best stocks for investors to buy right now... and DryShips wasn't one of them! That's right -- they think these 10 stocks are even better buys.
Click here to learn about these picks!
*Stock Advisor returns as of May 1, 2017
Rich Smith has no position in any stocks mentioned. The Motley Fool has no position in any of the stocks mentioned. The Motley Fool has a disclosure policy.