Why Did Bloomin' Brands, Inc. Stock Climb 11% in April?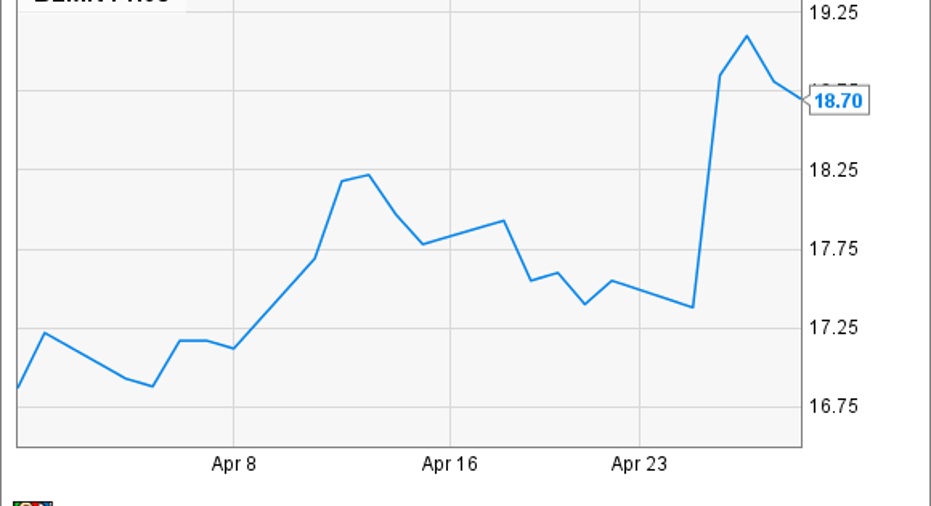 What: Bloomin' Brands , the parent company of Outback Steakhouse, Carrabba's Italian Grill, Bonefish Grill, and Fleming's Prime Steakhouse & Wine Bar, met its Q1 sales expectations when it reported earnings on April 26, which was good enough for investors, who sent its shares flying after results were announced.
Image source: YCharts.com.
The company reported first-quarter adjusted diluted earnings per share of $0.29, a decrease from $0.47 the previous year. Despite the decrease, the company's stock, which closed March at $16.87 jumped after results were reported, ending the month at $18.70, a nearly 11% gain, according to data provided by S&P Global Market Intelligence.
So what: While overall revenue was down 1.7% and comparable-store sales dropped by 1.5% in the United States, investors clearly liked what the company reported, perhaps because it delivered what it promised.
"Our first quarter earnings were in line with our expectations," said CEO Liz Smith in the earnings release. "As we indicated in February, we expect our performance to strengthen in the back half of the year. This cadence was contemplated in our annual guidance and is driven by the timing of investments and their related benefits, lapping a very strong first half in 2015 and the pacing of foreign currency impact."
Bloomin' Brands has also continued to repurchase shares and the company plans to continue efforts to return money to shareholders. The company repurchased $75 million worth of stock in the first quarter. "This was enabled by our strong free cash flow and the great progress we are making in our efforts to sell our owned real estate," said Smith. We will continue to explore additional opportunities within our portfolio to maximize shareholder value."
Now what: When you tell investors to expect better performance in the second half of the year, you have to deliver. Clearly investors are accepting that Bloomin' Brands has a plan and so far it executed that plan by being on target with its Q1 predictions.
Of course, when it comes to any operating plan delivering on the underperforming part is the easy piece of the equation. Going forward investors will want the company to meet its expectations in Q2 and then begin to show growth in Q3 and Q4 in line with its full-year guidance.
The article Why Did Bloomin' Brands, Inc. Stock Climb 11% in April? originally appeared on Fool.com.
Daniel Kline has no position in any stocks mentioned. He does not understand what makes Outback Steakhouse Australian. The Motley Fool has no position in any of the stocks mentioned. Try any of our Foolish newsletter services free for 30 days. We Fools may not all hold the same opinions, but we all believe that considering a diverse range of insights makes us better investors. The Motley Fool has a disclosure policy.
Copyright 1995 - 2016 The Motley Fool, LLC. All rights reserved. The Motley Fool has a disclosure policy.