Why Did Big Lots Inc. Stock Jump 12% in March?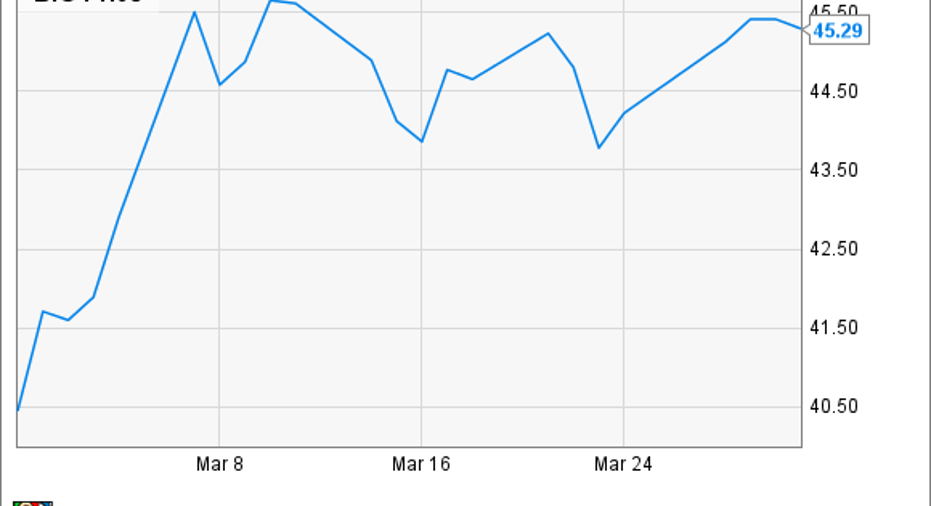 The holiday season was not just about getting the hottest and newest items. A strong fourth quarter from Big Lots showed that people were also looking for bargains.
What: The closeout merchandise retailer reported a strong end to its year on March 4. That sent its stock, which closed February at $40.45, on a strong run ultimately closing out the month at $45.29, a nearly 12% gain, according to data provided by S&P Global Market Intelligence.
Source: YCharts.com
So what: At a time when traditional retailers struggled to compete with the Internet, Big Lots (which does not even sell on its website) had a strong holiday season. The company reported income from continuing operations of $94.7 million, or $1.91 per diluted share, for its Q4, which ended Jan. 30, 2016. The numbers are even better when you exclude a one-time expense of $4.9 million associated with the termination of legacy pension plans.
During the quarter comparable sales for stores open at least fifteen months increased 0.7%, which was actually below the company's guidance of an increase of 1% to 2%. Net sales were down as well, due to the company having fewer locations, but overall the numbers were solid.
"Fourth quarter earnings were at the high end of our guidance range and comps increased for an eighth consecutive quarter, despite the disruption from winter storm Jonas and a later start to the tax refund season for our customers," said CEODavid Campisi in the earnings release.
Now what: The company expects to continue its upbeat performance in the coming year:
Those are ambitious numbers, but there's no reason to believe the retailer, which seems to have found a mix which draws customers into its stores in a day where that has become difficult to do, won't hit them. Big Lots is a discounter, but it's also a bit of an adventure.
Shoppers know the deals will be good but they never know exactly what the merchandise will be. That may be one of the few ways to succeed in physical retail in the face of digital competition and Big Lots appears to have the model down cold.
The article Why Did Big Lots Inc. Stock Jump 12% in March? originally appeared on Fool.com.
Daniel Kline has no position in any stocks mentioned. He buys and loses a lot of gloves from stores like Big Lots. The Motley Fool recommends Big Lots. Try any of our Foolish newsletter services free for 30 days. We Fools may not all hold the same opinions, but we all believe that considering a diverse range of insights makes us better investors. The Motley Fool has a disclosure policy.
Copyright 1995 - 2016 The Motley Fool, LLC. All rights reserved. The Motley Fool has a disclosure policy.