Why Dicks Sporting Goods Inc Shares Were Deflating Today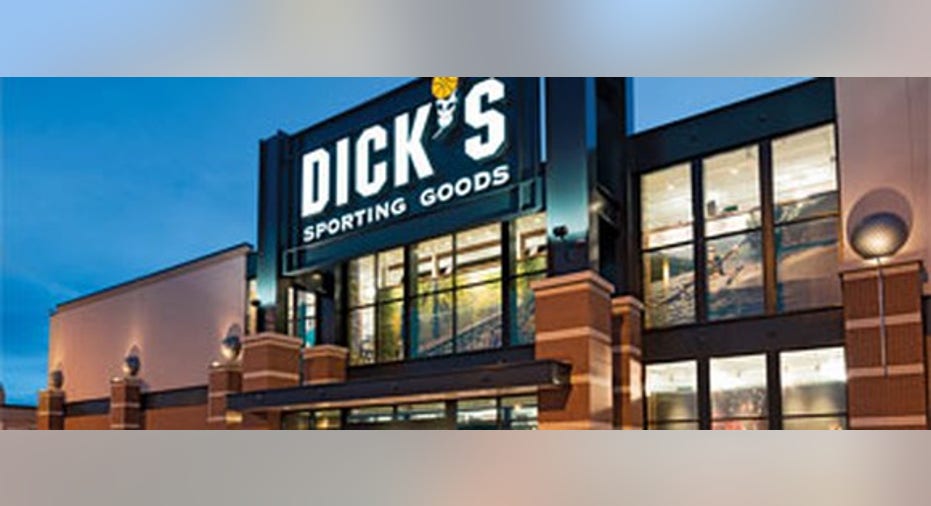 What happened
Shares ofDicks Sporting Goods(NYSE: DKS) were falling flat today after the retailer missed sales estimates in its first-quarter report and said it would slow down store openings and cut jobs.
As of 12:07 p.m. EDT, the stock was down 13.1%.
Image source: Dick's Sporting Goods.
So what
The nation's largest sporting goods retailer had a respectable quarter on the top line as comparable sales increased 2.4% as the company continues to take advantage of last year's bankruptcies in the industry, which include The Sports Authority and City Sports. However, analysts expected same-store sales growth of 3.5%, and management itself had projected a 3% to 4% increase.
Overall revenue increased 9.9% to $1.83 billion, matching analyst estimates, while adjusted earnings per share increased from $0.50 a year ago to $0.54, also meeting the consensus.
The market may also be disappointed with Dick's plans to scale down new store openings as it plans to open 15-20 locations next year and as little as 5-10 in 2019, after opening 43 this year. Management said it was waiting for real-estate prices to come down and could also consolidate some of its stores.
Separately, the company is cutting about 160 jobs, mostly in its Store Support Center, which will cut costs and boost profits.
Now what
Looking ahead, Dick's said it expects adjusted earnings per share in the current quarter of $1.02 to $1.07, up from $0.82 a year ago, and comparable sales growth of 2% to 3%. For the full year, it sees adjusted EPS of $3.65 to $3.75, up from $3.12 last year, and same-store sales growth of 1% to 3%.
Analysts, meanwhile, see EPS of $1 for the current quarter and $3.74 for the year.
Management acknowledged the "challenging retail environment," but profit growth continues to be solid. Shares are looking cheap after the sell-off. While the future will continue to be challenging, Dick's is certainly in better shape than many of its peers.
10 stocks we like better than Dick's Sporting GoodsWhen investing geniuses David and Tom Gardner have a stock tip, it can pay to listen. After all, the newsletter they have run for over a decade, Motley Fool Stock Advisor, has tripled the market.*
David and Tom just revealed what they believe are the 10 best stocks for investors to buy right now...and Dick's Sporting Goods wasn't one of them! That's right -- they think these 10 stocks are even better buys.
Click here to learn about these picks!
*Stock Advisor returns as of May 1, 2017.
Jeremy Bowman has no position in any stocks mentioned. The Motley Fool has no position in any of the stocks mentioned. The Motley Fool has a disclosure policy.