Why Dicks Sporting Goods Inc Fell 12% in November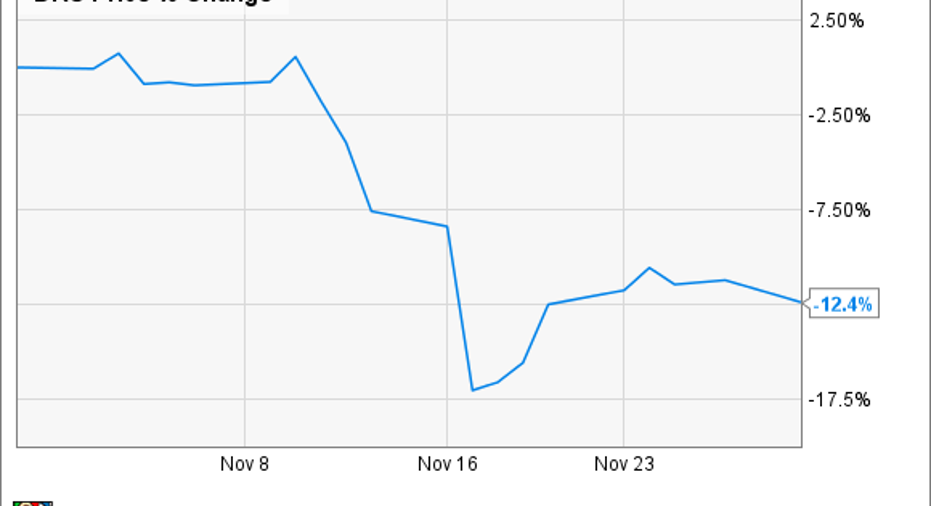 What:Shares of Dick's Sporting Goods dropped 12.4% last month, according toS&P Capital IQ data. Investors checked out after the sporting-goods retailer delivered a poor third-quarter earnings report, and disappointing guidance for the critical holiday quarter.
So what: Dick's third-quarter revenue and earnings of $1.64 billion and $0.45 fell short of Wall Street's expectations of $1.66 billion and $0.46. Same-store sales edged up only 0.4%, below the 1.9% analysts were modeling. Worse still, management slashed its full-year outlook to $2.85 to $3.00 a share, down from its previous forecast of $3.13 to $3.21, and below the $3.18 analysts were projecting.
Warm weather hurt sales of Dick's seasonal categories, said CEO Edward Stack in a press release, and he expects "a more promotional environment" in the fourth quarter. That will likely put pressure on Dick's profit margins in its most-important quarter of the year.
Now what: With the sporting-goods retailer now down more than 20% on the year, and trading near multi-year lows, some investors are beginning to look at Dick's Sporting Goods as a value play. I would urge caution, however, with such an approach.
Many of the problems facing the company are structural in nature. The main concern is that, as a primarily brick-and-mortar retailer, Dick's Sporting Goods is at a cost disadvantage to e-commerce retailers. In addition, its two major suppliers, Under Armour and Nike , are steadily growing their direct-to-consumer operations, making them less reliant on Dick's with every passing year. As such, for investors looking for an investment in the athletics goods space, they may be best served by passing on Dick's Sporting Goods in favor of one -- or both -- of these sports apparel titans.
The article Why Dicks Sporting Goods Inc Fell 12% in November originally appeared on Fool.com.
Joe Tenebruso has no position in any stocks mentioned. The Motley Fool owns shares of and recommends Nike and Under Armour. Try any of our Foolish newsletter services free for 30 days. We Fools may not all hold the same opinions, but we all believe that considering a diverse range of insights makes us better investors. The Motley Fool has a disclosure policy.
Copyright 1995 - 2015 The Motley Fool, LLC. All rights reserved. The Motley Fool has a disclosure policy.