Why Devon Energy Corp.'s Stock Rocketed 28.3% in November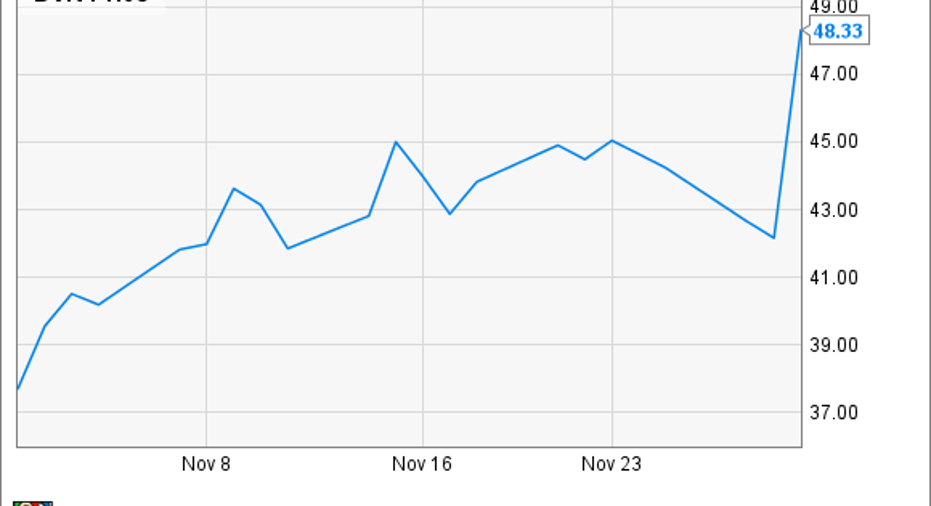 Image source: Getty Images.
What happened
Devon Energy's (NYSE: DVN) stock was red hot in November. While the company's solid third-quarter report and optimistic view of the future ignited the rally, OPEC's decision to step in to support oil prices at the end of the month sent the stock off to the races:
So what
Devon Energy's third-quarter report set the tone for November after the company reported stronger-than-expected results. The company reported core earnings of $47 million, or $0.09 per share, which was nearly double the $0.05 per share analysts were expecting. Fueling that expectation-beating result was the company's continued ability to push operating down costs, which are now 37% below peak rates while delivering record-setting quarterly well results.
In addition to reporting solid results, Devon Energy provided investors with an optimistic early glimpse at 2017 and 2018. The company said that it is in a position to deliver double-digit U.S. oil production growth in 2017 while living within cash flow as long as oil averages $55 per barrel. Furthermore, ifoil continues to improve and averages $60 a barrel in 2018, the company could generate stronger production growth that year.
What's noteworthy about that plan is that Devon Energy needs at least $55 oil to make it work, which is a price we have not seen since July 2015. However, it is far from the only producer that had $55 oil in its forecast. For example, leading Midland Basin driller Pioneer Natural Resources (NYSE: PXD) said last quarter that it is on pace to deliver 15% compound annual production growth through 2020. Also, Pioneer Natural Resources could achieve that growth rate while living within cash flow starting in 2018 assuming oil at $55 per barrel.
That future price point became much more likely after OPEC agreed to end its market share war and instead step in to support prices. In fact, several analysts believe the deal could push crude up to $60 a barrel in the near term. If that happens, it could enable both Devon and Pioneer Natural Resources to grow output even quicker than their current plans or use the excess cash flow for other things such as shareholder distributions or acquisitions.
Now what
Devon Energy has gotten itself back into the position where it can deliver robust production growth going forward at much lower oil prices. There's just one slight catch: It still needs oil to be at $55 a barrel to fuel that growth. However, that price point now appears very achievable, which is why the stock soared on the heels of the OPEC agreement.
10 stocks we like better than Devon Energy When investing geniuses David and Tom Gardner have a stock tip, it can pay to listen. After all, the newsletter they have run for over a decade, Motley Fool Stock Advisor, has tripled the market.*
David and Tom just revealed what they believe are the 10 best stocks for investors to buy right now... and Devon Energy wasn't one of them! That's right -- they think these 10 stocks are even better buys.
Click here to learn about these picks!
*Stock Advisor returns as of Nov. 7, 2016
Matt DiLallo has no position in any stocks mentioned. The Motley Fool owns shares of Devon Energy. Try any of our Foolish newsletter services free for 30 days. We Fools may not all hold the same opinions, but we all believe that considering a diverse range of insights makes us better investors. The Motley Fool has a disclosure policy.