Why Department Store Stocks Got Hammered Today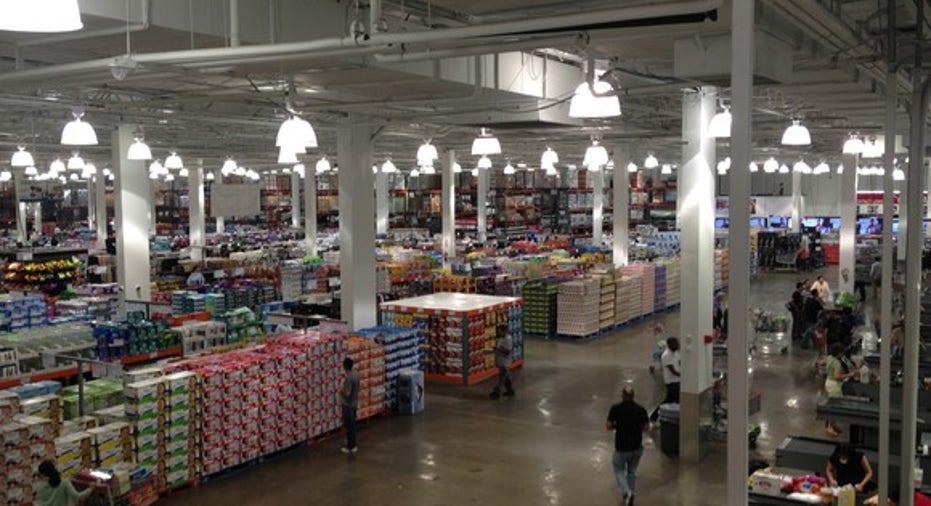 Image source: The Motley Fool.
What happened
Downbeat holiday sales reports byKohl's(NYSE: KSS) andMacy's(NYSE: M) pushed the department store sector, and much of retail, in the red on Thursday. As of 11:38 a.m. EST, Kohl's was down 19.5%, Macy's was down 14.4%, and peers includingNordstrom(NYSE: JWN) andJ.C. Penney(NYSE: JCP) also tumbled, falling 9.8% and 6.7%, respectively.
So what
The news was not a big surprise as department store chains came into the quarter struggling, posting comparable sales declines as consumers increasingly take their business to e-commerce outlets likeAmazon.com.
Macy's, considered the leader of the industry, came into the holiday season with seven straight quarterly comparable sales declines, and said that sales at established stores fell 2.1% in November and December. CEO Terry Lundgren summed up the quarter saying, "While our sales trend is consistent with the lower end of our guidance, we had anticipated sales would be stronger. We believe that our performance during the holiday season reflects the broader challenges facing much of the retail industry." He noted that online sales were up by double digits, and said performance was strong in some areas like apparel, fine jewelry, and furniture. The company said full-year comparable sales would come in at the low end of its previously stated -2.5% to -3% range, and lowered its full-year earnings per share forecast to $2.95-$3.10 from $3.15-$3.40.
Separately, Macy's named 68 stores that it would close from a previously announced plan to shutter 100 locations, and will lay off 6,200 employees, or about 4% of its workforce. Macy's said the moves were consistent with its strategy of having fewer stores with better customer experience. The company also has plans to open 50 off-price Macy's Backstage stores inside existing Macy's, and 50 Bluemercury beauty specialty stores.
Kohl's, meanwhile, echoed Macy's warning, saying comparable sales dropped 2.1% in November and December and that overall sales were down 2.7%, due to store closings. CEO Kevin Mansell said strong sales during Black Friday weekend and the week before Christmas were offset by weak performance during the rest of the period. Kohl's also reduced its full-year adjusted EPS guidance from $3.80-$4.00 to $3.60-$3.65. Though Kohl's lowered its guidance less than Macy's did, the stock may have fallen further because it lacks the valuable real estate portfolio that Macy's has, which may act as a floor on its share price.
J.C. Penney and Nordstrom should report holiday sales in the coming days, but there's evidence elsewhere that it was a weak season for bricks-and-mortar retailers. Shares of Victoria's Secret parentL Brands(NYSE: LB) were down 9% after it said comparable sales fell 1% in December and that it expects fourth-quarter earnings to come in at the low end of its previously stated guidance of $1.85-$2.00.
Now what
There's no easy solution to this problem for the department store chains. With the advent of e-commerce, the way consumers shop is changing, and now more quickly than ever. E-commerce now takes up close to 10% of total retail spending and is increasing by about 15% a year. Amazon opens dozens of new fulfillment centers every year to speed up delivery, and as technology continues to improve, the online shopping process has become even easier.
Store-based sales are even worse than they might seem as comparable sales figures like the ones above also take into account e-commerce sales, which are growing. In this environment, it only seems natural that Macy's and Kohl's would continue closing stores as traffic falls and department stores no longer serve the purpose they used to.
Some retail formats have been more successful than others, and emulating those may be the best chance for the department stores to find success. With its Backstage stores, Macy's is borrowing a page from concepts likeTJX Companies, which has delivered consistent comparable sales growth with its off-price, "treasure hunt" model. And J.C. Penney has found traffic drivers by selling more home improvement items, and through partnerships with Sephora and InStyle hair salons, offering a service that can't be provided over the internet.
Still, Amazon continues to be relentless, and as the latest numbers show, the department stores have not found a panacea. 2017 looks like it will be another tough year for traditional retailers.
10 stocks we like better than Macy's When investing geniuses David and Tom Gardner have a stock tip, it can pay to listen. After all, the newsletter they have run for over a decade, Motley Fool Stock Advisor, has tripled the market.*
David and Tom just revealed what they believe are the 10 best stocks for investors to buy right now... and Macy's wasn't one of them! That's right -- they think these 10 stocks are even better buys.
Click here to learn about these picks!
*Stock Advisor returns as of January 4, 2017
Jeremy Bowman owns shares of J.C. Penney. The Motley Fool owns shares of and recommends Amazon.com. The Motley Fool recommends Nordstrom. The Motley Fool has a disclosure policy.