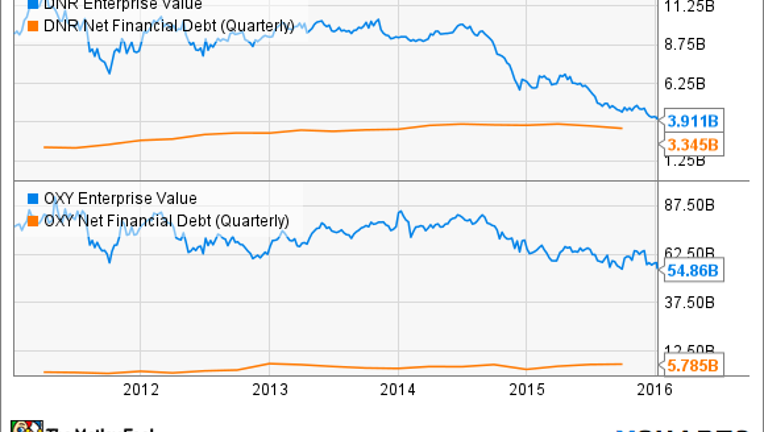 What: December was another very rough month for investors in Denbury Resources . Continued oil price weakness, combined with growing credit concerns, put tremendous pressure on the company's stock price, sending it down 45.3% last month.
So what: With the oil glut persisting, the price of domestically produced crude dropped 11% to just over $37 per barrel. That's a very tough price for oil companies to operate in because they not only have production costs to pay, but the bulk of the rest of the cast flow is spent on capital projects to keep and grow production and maintain debt. Given how far crude prices have fallen, there's worry that companies like Denbury Resources will start to have trouble maintaining their debt.
That concern caused one of the leading rating agencies to put Denbury Resources on review for a potential credit rating downgrade. That said, it was one of 29 U.S. oil companies put on review, including larger producers like Occidental Petroleum . Still, it wasn't something the company took lightly, and in order to alleviate some of this concern, Denbury Resources offered to exchange a portion of its older senior notes for up to $650 million new senior notes. The exchange has the potential to reduce its debt by up to $350 million.
One of the reasons the rating agency and the market are concerned with Denbury's debt is because it is high for a company of its size. For perspective, Occidental Resources is more than 10 times larger, but has less than twice the net debt of Denbury:
DNR Enterprise Value data by YCharts.
In order to keep its debt level from growing, Denbury Resources also disclosed that it anticipates its 2016 capex spending to be in a range of $250 million to $300 million. That's down from the $475 million it expected to spend last year and should keep the company's spending aligned with its cash flow, which will prevent it from needing to fund the difference with more debt.
Now what: Because of its smaller size and larger debt load, Denbury Resources has had to be much more proactive than a larger peer like Occidental Resources. While both companies could use a boost from higher oil prices, Occidental is in a much better position to ride out the current environment and do so with much less volatility.
The article Why Denbury Resources Inc.'s Stock Crashed in December originally appeared on Fool.com.
Matt DiLallo owns shares of Denbury Resources. The Motley Fool owns shares of Denbury Resources. Try any of our Foolish newsletter services free for 30 days. We Fools may not all hold the same opinions, but we all believe that considering a diverse range of insights makes us better investors. The Motley Fool has a disclosure policy.
Copyright 1995 - 2016 The Motley Fool, LLC. All rights reserved. The Motley Fool has a disclosure policy.