Why Delphi Automotive Is Joining BMW's Self-Driving Car Effort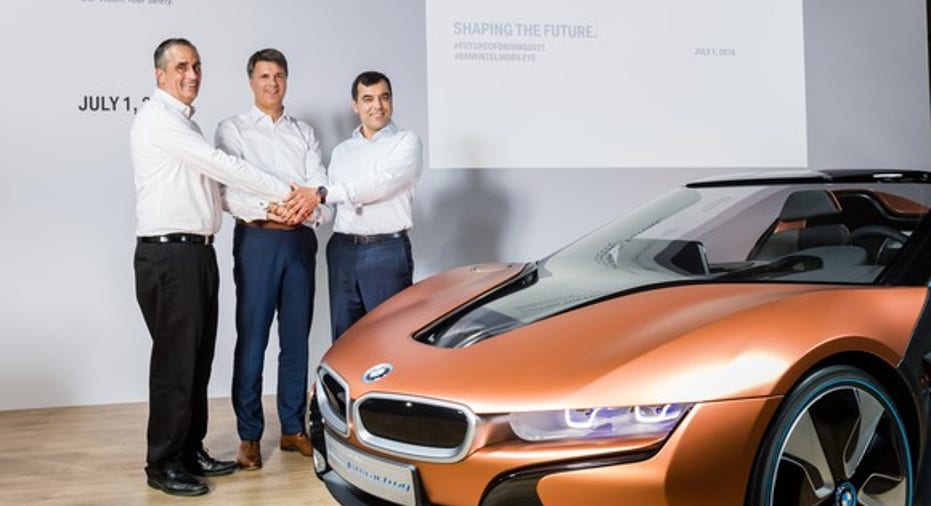 Tech-savvy auto-industry supplier Delphi Automotive (NYSE: DLPH) is joining BMW's (NASDAQOTH: BAMXF)self-driving car effort. Delphi will join BMW's existing partners, Mobileye (NYSE: MBLY) and Intel (NASDAQ: INTC), in an effort to create fully autonomous technology for BMW's future vehicles, the companies announced on Tuesday.
Delphi will help integrate the system into BMW's vehicles -- as well as offer it for sale to other automakers.
Delphi is joining an existing self-driving development partnership between BMW, Intel, and Mobileye. Intel CEO Brian Krzanich, BMW CEO Harald Krueger, and Mobileye chairman and CTO Amnon Shashua announced the formation of the partnership at an event last July. Image source: BMW AG.
What the companies said
Delphi is joining an effort that has been ongoing for about a year now. Last July, BMW, Mobileye, and Intel announced that they had joined forces to help BMW bring a fully autonomous vehicle platform to market by 2021.
BMW said in a statement on Tuesday that, together with Mobileye and Intel, it has developed a "scalable [self-driving] architecture that can be adopted by other automotive developers and carmakers to pursue State-of-the-Art designs and create differentiated brands." Delphi's role, BMW said, will be to help bring a series of self-driving systems to market -- and to offer them to other automakers:
["OEM" is auto-industry slang for companies that build finished vehicles -- "Original Equipment Manufacturers" -- as opposed to suppliers like Delphi.]
BMW said that the systems that will be brought to market by the partners range from "Level 3" to full "Level 5" systems. (You can learn more about the levels of self-driving technology here.)
Why Delphi was chosen to help bring this new system to market
Delphi is a natural fit for this effort. It's already working with Mobileye and Intel in a separate effort, announced in August of last year, to offer a "turnkey" Level 4 self-driving system to automakers by the end of 2019. In a post on Delphi's corporate blog, CTO Glen De Vos said that effort will continue:
What it means for Delphiinvestors
Earlier this month, Delphi announced that it will spin off its legacy powertrain systems business into a separate company, while it refocuses its core business on higher-profit electrical and electronic segments. Put another way, Delphi is aiming to reposition itself as a pure play focused on driverless vehicle technology.
While it's no surprise that Intel and Mobileye would want to work with their existing partner, this deal with BMW and the others helps bolster Delphi's position as an emerging leader in the integration of self-driving systems.
While that might not do wonders for Delphi's stock price in the near term, it will provide another proof point of Delphi's market position in this important emerging space over time.
10 stocks we like better than Delphi AutomotiveWhen investing geniuses David and Tom Gardner have a stock tip, it can pay to listen. After all, the newsletter they have run for over a decade, Motley Fool Stock Advisor, has tripled the market.*
David and Tom just revealed what they believe are the 10 best stocks for investors to buy right now... and Delphi Automotive wasn't one of them! That's right -- they think these 10 stocks are even better buys.
Click here to learn about these picks!
*Stock Advisor returns as of May 1, 2017
John Rosevear has no position in any stocks mentioned. The Motley Fool recommends BMW and Intel. The Motley Fool has a disclosure policy.