Why Del Taco Restaurants Inc. Shares Soared 35% Last Year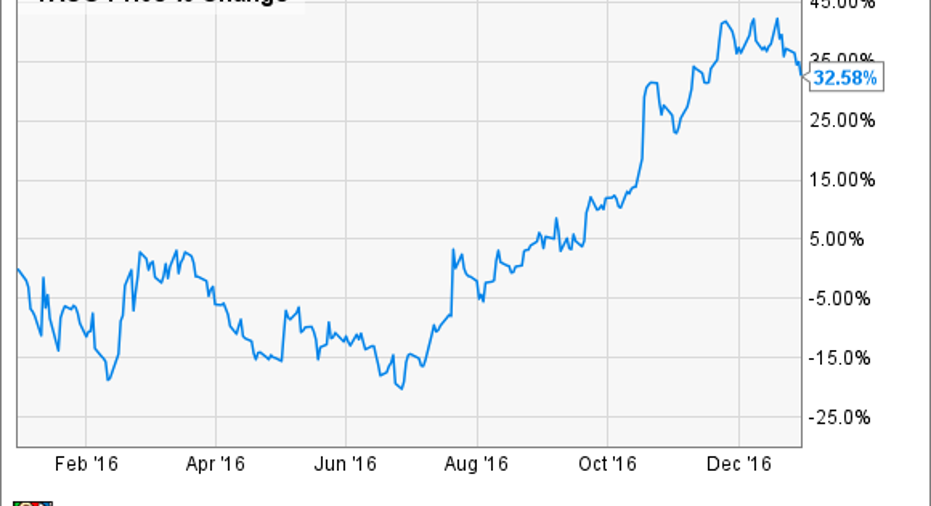 Image source: Del Taco Twitter page.
What happened
Shares ofDel Taco Restaurants Inc.(NASDAQ: TACO) were stacking higher last year, gaining 35% according to data from S&P Global Market Intelligence. The fast-food chain bucked the overriding trend in the restaurant industry with a couple of strong earnings reports in the second half of the year that propelled the stock higher.
So what
Though much of the fast-food industry struggled toward the end of the year as food deflation made groceries cheaper, Del Taco was a rare winner. The west-coast taco chain saw shares jump 12% after its second-quarter report came out in July. Same-store sales grew 3.3% as a 4.9% increase in average check helped it overcome a 1.8% decline in traffic. Restaurant operating margin improved 80 basis points to 20.6%, and net income increased 6%.
Performance improved in the third quarter as same-store sales surged to 6.7% with a traffic increase of 2.3%, sending the stock up 9%. Net income increased from $0.2 million to $4.9 million. The June launch of The Del Taco ("a bigger, better-tasting crunchy beef taco worthy of our name")helped boost growth as it broke records for new product launches. Management also said full-year results would come in at the high end of its previously stated guidance.
Now what
Del Taco certainly deserves credit for soaring comparable sales at a time when much of the industry is struggling. Management gave credit to the Fresh Combined Solutions strategy and Unfreshing Believable 2.0 Campaign, which began with the launch of The Del Taco and is management's attempt to elevate to QSR+, with higher quality than peers like Taco Bell.
Looking ahead to 2017, Del Taco stock has gotten pricier than its peers with a P/E close to 30, but if the comparable sales continue to soar, the stock should move higher.
10 stocks we like better than Del Taco When investing geniuses David and Tom Gardner have a stock tip, it can pay to listen. After all, the newsletter they have run for over a decade, Motley Fool Stock Advisor, has tripled the market.*
David and Tom just revealed what they believe are the 10 best stocks for investors to buy right now...and Del Taco wasn't one of them! That's right -- they think these 10 stocks are even better buys.
Click here to learn about these picks!
*Stock Advisor returns as of January 4, 2017.
Jeremy Bowman has no position in any stocks mentioned. The Motley Fool has no position in any of the stocks mentioned. The Motley Fool has a disclosure policy.