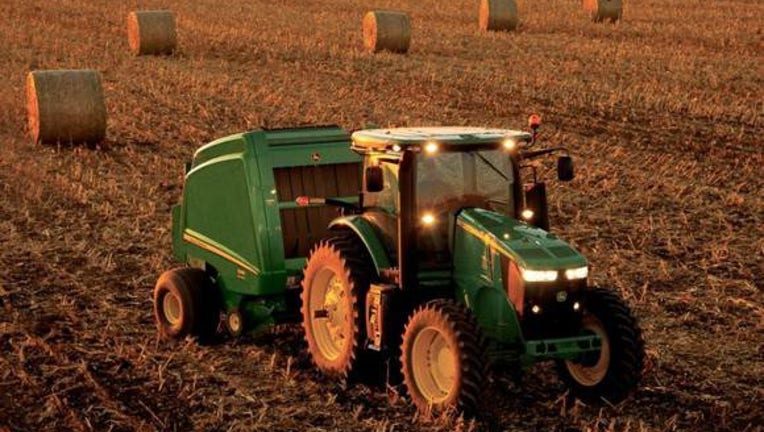 Image source: Deere.
The stock market finished on an upbeat note Friday, and the Dow and S&P 500 both recovered some of their losses from Thursday. Investors apparently had a change of heart in their views about the future of the U.S. economy, believing that its long period of outperformance could potentially continue even if the Federal Reserve begins to start tightening its monetary policy more aggressively throughout the remainder of 2016 and beyond. Crude oil prices eased downward slightly but remain within a short distance of the $50 per barrel mark, and the dollar kept bouncing back after suffering for much of the past few months. Even though stock market indexes were higher, several stocks lost ground, and Deere , Shoe Carnival , and Quality Systems were among the hardest-hit stocks in the market Friday.
Deere fell more than 5% in the wake of its fiscal second-quarter financial report. The maker of farm equipment was able to surpass analysts' estimates by a penny per share on the earnings front, but particularly weak sales in the construction and forestry segment weighed on what otherwise would have been roughly flat performance from the agricultural industry. More importantly, Deere reduced its guidance for full-year net income, because pressure from construction and forestry combined with lower net income from Deere's financial services segment to hold back the overall company's future prospects. Until Deere's target industries start to bounce back more aggressively, it will be hard for the equipment maker to sustain long-term gains in its stock price.
Shoe Carnival dropped 9% after releasing its first-quarter financial report Thursday afternoon. Net sales were up about 3% to hit a new record for a first quarter, and earnings rose 8% to $0.56 per share, setting a record as well. Comparable store sales were up 2.7%, marking the seventh quarter in a row of rising comps, but investors didn't seem satisfied with Shoe Carnival's reiterated guidance for the full year. Given comparable-store sales growth of just 1% to 3% and earnings growth of between 9% and 14%, Shoe Carnival might not offer quite the same level of growth potential that investors have traditionally wanted to see. To win back shareholders, the shoe retailer will need to redouble its efforts to get growth accelerating again.
Finally, Quality Systems declined 8%. The medical software and services provider said that revenue inched downward by less than 1% from year-ago levels, and adjusted net income took about a $1 million hit to drop to $11.5 million for the quarter. CEO Rusty Frantz tried to focus on the long run, noting that "these results are in line with the preliminary results we announced on our Business Strategy Update conference call" back in late April. Guidance for the 2017 fiscal year was slightly less than investors had hoped, as Quality Systems thinks it will have sales of $508 million to $522 million. Yet adjusted earnings of $0.78 to $0.86 per share would be roughly in line with projections, and so if Quality Systems can deliver on its guidance, then shareholders might end up happy in the long run.
The article Why Deere, Shoe Carnival, and Quality Systems Slumped Today originally appeared on Fool.com.
Dan Caplinger has no position in any stocks mentioned. The Motley Fool is short Deere & Company. Try any of our Foolish newsletter services free for 30 days. We Fools may not all hold the same opinions, but we all believe that considering a diverse range of insights makes us better investors. The Motley Fool has a disclosure policy.
Copyright 1995 - 2016 The Motley Fool, LLC. All rights reserved. The Motley Fool has a disclosure policy.