Why Deepwater Drilling Could Be Dying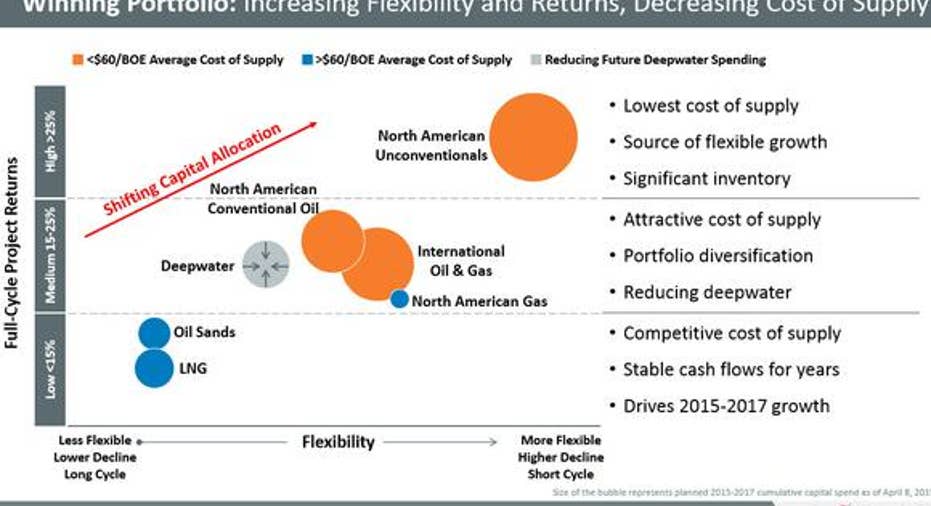 Deepwater drilling was once thought to be the next big thing driving oil production growth for countries and companies outside of OPEC. However, the high costs and higher risks of offshore drilling recently led ConocoPhillips to join peers Devon Energy and Apache in abandoning these efforts, especially when the risks and returns are much better onshore.
Counting the costsAt a recent conference, ConocoPhillips was asked to explain its decision to exit deepwater exploration, especially in the context of other opportunities. Reason being, all else equal, the returns earned from deepwater projects are better than those earned from oil sands and LNG, which are assets the company intends to retain. This is pretty clear from the slide below:
Source: ConocoPhillips Investor Presentation.
Here's how Matt Fox, ConocoPhillips' EVP E&P, addressed the question of why it's abandoning deepwater exploration:
Source: Apache Corporation.
Given the company's view that the industry is moving into a period consisting of increased price volatility and much shorter production cycles, it needs to shift its focus toward projects offering the most flexibility. That's clearly North American unconventional production, which is why that will receive the bulk of its capital going forward.
Joining the clubIn one sense, ConocoPhillips is behind the curve, given that many of its independent peers have already abandoned offshore development in favor of North American shale. Devon Energy was one of the early leaders in this shift after it sold off its Gulf of Mexico assets as well as its offshore assets in Brazil to BPin 2010. In exchange, Devon received $7 billion in cash as well as a 50% interest in BP's Kirby oil sands leases in Canada. Devon then used that cash to further its onshore push in the U.S. It's a position that is now expected to drive more than 30% oil production growth in 2015, with robust future potential given the fact that just this week Devon spent a couple billion dollars to enhance its position even further.
Apache is another company that has been exiting the deepwater. Last year it continued its exit from the Gulf of Mexico after selling its interests in the Lucius and Heidelberg development projects as well as 11 deepwater exploration blocks to Freeport-McMoRanfor $1.4 billion. The move was one of a number of transactions the company has undertaken over the past few years to rebalance its portfolio because it prefers to drive predictable growth out of its liquids-focused onshore assets in North American. Predictability is the key outcome that Apache is seeking these days, which was hard to achieve when so many deepwater wells fail to deliver.
Investor takeawayDespite the new world of opportunity just waiting to be discovered under the sea, oil producers are finding that it's easier and cheaper just to drill on dry land. That's why we're seeing ConocoPhillips join a growing list of independent producers to abandon deepwater offshore exploration in order to focus on North American shale production. It's another sign that production growth from deepwater drilling could soon be dying off.
The article Why Deepwater Drilling Could Be Dying originally appeared on Fool.com.
Matt DiLallo owns shares of ConocoPhillips. The Motley Fool owns shares of Freeport-McMoRan Copper & Gold,. Try any of our Foolish newsletter services free for 30 days. We Fools may not all hold the same opinions, but we all believe that considering a diverse range of insights makes us better investors. The Motley Fool has a disclosure policy.
Copyright 1995 - 2015 The Motley Fool, LLC. All rights reserved. The Motley Fool has a disclosure policy.