Why Dave & Buster's Entertainment, Skechers USA Inc., and F5 Networks Slumped Today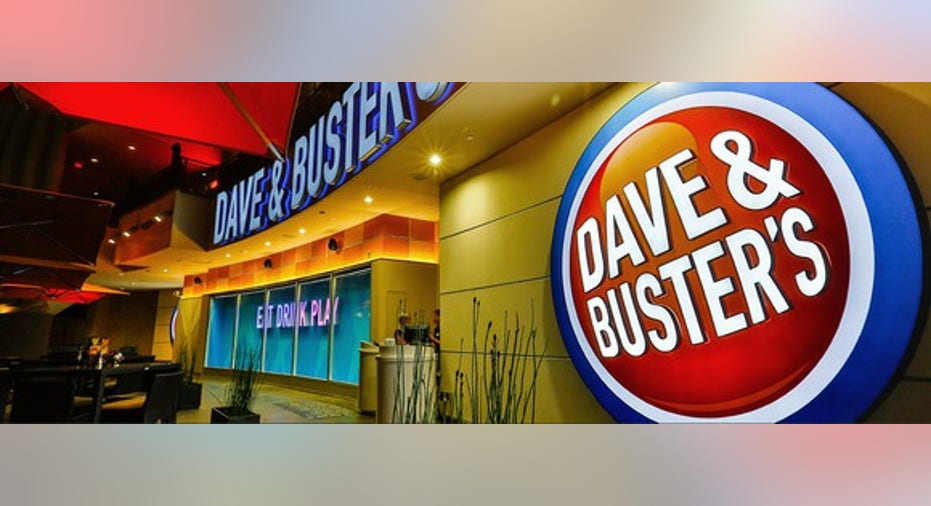 After posting strong gains on Tuesday, the stock market was mixed on Wednesday as the Dow Jones Industrial Average declined 42 points, or 0.2%, while the Nasdaq and S&P 500 rose 0.4% and 0.1%, respectively.But several individual stocks were left behind as those broader market indexes climbed, including Dave & Buster's Entertainment (NASDAQ: PLAY), Skechers USA Inc. (NYSE: SKX), and F5 Networks (NASDAQ: FFIV).Read on to see what caused these stocks to fall today.
Dave & Buster's drops despite a beat
Shares of Dave and Buster's Entertainment fell 3.4% today despite reasonably strong fiscal fourth-quarter 2016 results from thecasual dining restaurant chain.For the quarter ended Jan. 29, 2017, Dave & Buster's saw revenue climb 15.4% to $270.2 million, thanks to contributions from new locations as well as 3.2% comparable-store sales growth. On the bottom line, that translated to net income of $27.4 million, or $0.63 per share, up from $0.53 per share in the same year-ago period. By comparison, analysts' consensus estimates called for lower earnings of $0.59 per share on revenue of $269.8 million.
Image source: Dave & Buster's.
In addition, Dave & Busters expects revenue in fiscal 2017 to be in the range of $1.155 billion to $1.170 billion -- roughly in line with Wall Street's models -- including the openings of 11 to 12 new locations and comparable-store sales growth of 2% to 3%.
So what gives? For one, Wall Street was hoping for even better fourth-quarter comps growth of 3.7% -- though that seems to me a petty criticism considering Dave & Buster's comps of 3.2% still outpaced the competitive casual dining benchmark for the 19th straight quarter. But it perhaps doesn't help that Dave & Buster's shares are still up more than 50% over the past year. All in all, it's evident that Wall Street wanted more from the chain.
A skeptical view of Skechers
Skechers stock fell 4.7% after Susquehanna analyst Sam Poser downgraded the footwear specialist to "negative" from "positive." Poser also reduced his per-share price target on Skechers stock to $25 from $30. Skechers stock closed today at $28.54 per share.
To be fair, Skechers stock is still up around 16% so far in 2017, including a massive post-earnings pop last month after the company's fourth-quarter 2016 results easily exceeded expectations. For that, the company credited a combination of 17.1% revenue growth from the international wholesale segment, and a 13.9% increase in company-owned retail store sales, both of which more than offset an 11.8% decline in domestic wholesale revenue.
Poser, for his part, remains worried that "domestic wholesale growth will likely fall short of consensus expectations," and expressedconcern over competition in the "crowded" footwear and apparel space as "hot brands" like Adidas, Puma, and Under Armour continue to expand their presence with retailers. Meanwhile, established players like Nike continue to hold their ground. If the strength of these competitors comes at the expense of Skechers, as Poser fears, investors could be in for an uncomfortable quarterly report next month.
F5 Networks gets a thumbs-down
Finally, shares of F5 Networks declined 3.4% after Deutsche Bank analyst Vijay Bhagavath downgraded shares of the application delivery networking technology company to sell from hold. Bhagavath also reduced his per-share price target on F5 Networks shares to $100 from $120, representing a big discount from F5 Networks' closing price today at $142.10 per share.
Bhagavath noted, however, that his opinion isn't based on concerns over F5's impending quarterly report next month, but rather "a fundamental call into [fiscal year 2018]" given a combination of decelerating revenue growth from F5's product and services segment, as well as headwinds due to a combination of F5 selling primarily into slower-growing "North-South" versus "East-West" load balancing; competitive cloud load balancer products from the likes of Amazon Web Services, Microsoft's Azure, and Google Cloud Platform; and competition in cloud security from companies like Akamai and Cisco.
Offer from The Motley Fool: The 10 best stocks to buy nowMotley Fool co-founders Tom and David Gardner have spent more than a decade beating the market. In fact, the newsletter they run, Motley Fool Stock Advisor, has tripled the S&P 500!*
Tom and David just revealed their ten top stock picks for investors to buy right now.
Click here to get access to the full list!
*Stock Advisor returns as of 3/24/2017.
Teresa Kersten is an employee of LinkedIn and is a member of The Motley Fool's board of directors. LinkedIn is owned by Microsoft. Steve Symington owns shares of UA. The Motley Fool owns shares of and recommends Amazon, Nike, Skechers, UAA, and UA. The Motley Fool recommends Cisco Systems and Dave and Buster's Entertainment. The Motley Fool has a disclosure policy.