Why Dave & Buster's Entertainment, Inc. Stock Surged 35% Last Year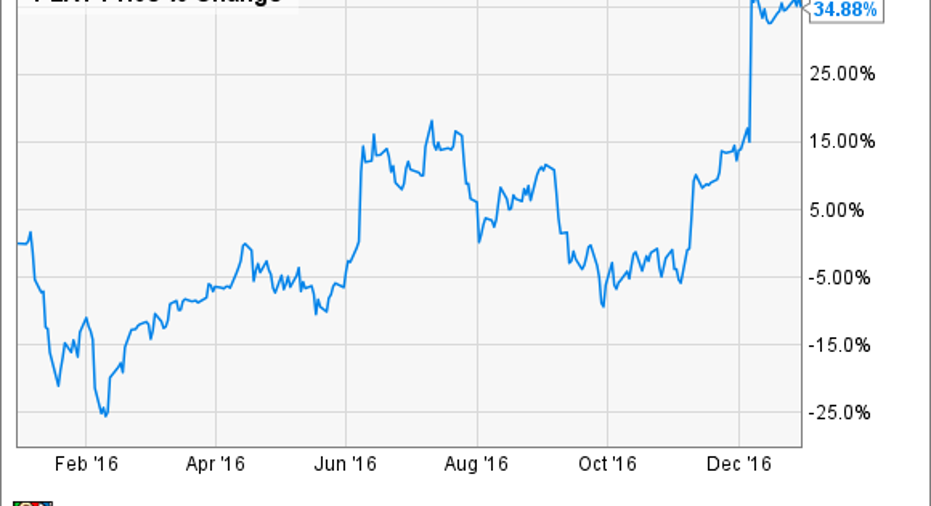 Image source: Dave & Buster's.
What happened
Investors inDave & Buster's Entertainment, Inc.(NASDAQ: PLAY) were big winners last year as the restaurant and arcade chain jumped 35% last year according to data from S&P Global Market Intelligence. As the chart below shows, much of the gains came on a pair of strong earnings reports, especially in December, as the company's results continue to blow past analyst estimates.
So what
Dave & Buster's has been a big winner since its 2014 IPO, more than tripling since then, and its recent results made it clear why. At a time when much of the restaurant industry is complaining of slowing traffic and a restaurant recession, Dave & Buster's has continued to put up strong growth numbers thanks in part to its amusement segment.
The stock surged 19% after its third-quarter earnings report as comparable sales increased 5.9% and earnings per share more than doubled from $0.11 to $0.25, crushing estimates at $0.14. The quarter marked the 18th straight period that the company beat comparable sales in the overall casual dining, showing the prowess of its business model. The company raised its guidance as earnings per share are up 71% for the year thus far.
Now what
Dave & Buster's makes more than half of its revenue from amusements, and that segment is significantly more profitable than food and beverage, giving the company several advantages over traditional restaurant operators.
Management has also accelerated the real estate pipeline with plans to open 11 new stores in fiscal 2017 instead of 10, and the closures of department stores and other such retailers could be an ideal opportunity for a company like Dave & Buster's, whose locations average 46,000 square feet. With the company's unique business model and its potential to fill vacant space at malls, I'd expect the stock to continue to climb.
10 stocks we like better than Dave and Buster's Entertainment When investing geniuses David and Tom Gardner have a stock tip, it can pay to listen. After all, the newsletter they have run for over a decade, Motley Fool Stock Advisor, has tripled the market.*
David and Tom just revealed what they believe are the 10 best stocks for investors to buy right now...and Dave and Buster's Entertainment wasn't one of them! That's right -- they think these 10 stocks are even better buys.
Click here to learn about these picks!
*Stock Advisor returns as of January 4, 2017.
Jeremy Bowman has no position in any stocks mentioned. The Motley Fool recommends Dave and Buster's Entertainment. The Motley Fool has a disclosure policy.