Why Dave & Buster's Entertainment, Inc. Stock Jumped 13% Last Month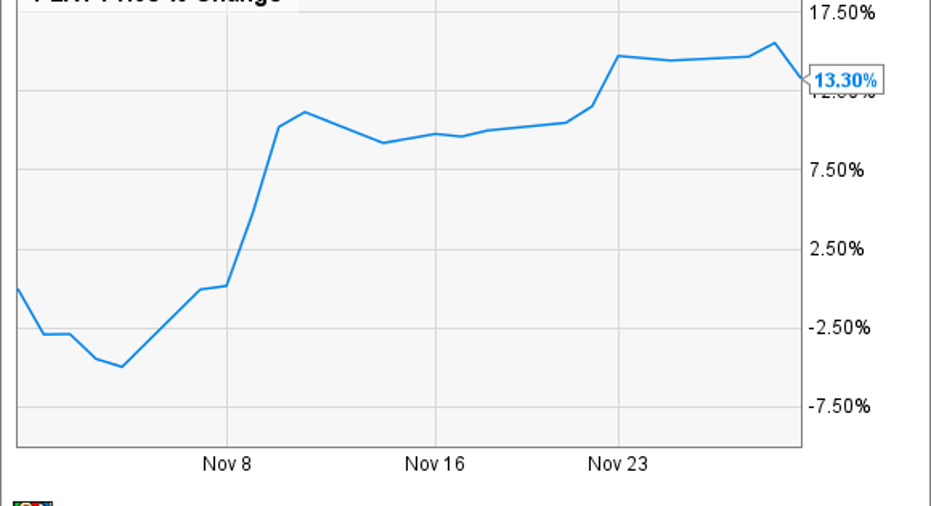 Image source: Dave & Buster's.
What happened
Shares ofDave & Buster's(NASDAQ: PLAY) were jumping last month as the restaurant and games chain caught a tailwind from Donald Trump's election, rising 13%, according to data from S&P Global Market Intelligence. Like several other restaurants, Dave & Buster's benefited from the market perception that labor laws would be relaxed under a Trump administration. As you can see from the chart below, the stock surged in the days following the election.
So what
In the two sessions following Trump's election victory, Dave & Buster's stock gained 10%. A number of restaurants surged after the election as investors expect that a Trump administration will keep the federal minimum wage at $7.25 per hour, resist Obama's overtime rule (which was recently struck down by a Texas court), and relieve some requirements for employers to provide healthcare by repealing the Affordable Care Act.
Labor costs take up about 23% of Dave & Buster's revenue as the company does not franchise, so it would stand to benefit from looser labor regulations.
Now what
Dave & Buster's has been a big winner since its IPO two years ago as shares have nearly tripled. The company's unique formula of food and amusement has proved popular, driving consistent comparable sales growth and operating leverage as operating income is up nearly 40% this year.
The company is set to report third-quarter earnings tomorrow. Analysts are expecting earnings of $0.14 per share and $216.7 million. With an aggressive store-opening plan, continuing comparable sales growth, and a modest valuation, I'd expect Dave & Buster's stock to continue to move higher.
10 stocks we like better than Dave and Buster's Entertainment When investing geniuses David and Tom Gardner have a stock tip, it can pay to listen. After all, the newsletter they have run for over a decade, Motley Fool Stock Advisor, has tripled the market.*
David and Tom just revealed what they believe are the 10 best stocks for investors to buy right now... and Dave and Buster's Entertainment wasn't one of them! That's right -- they think these 10 stocks are even better buys.
Click here to learn about these picks!
*Stock Advisor returns as of Nov. 7, 2016
Jeremy Bowman has no position in any stocks mentioned. The Motley Fool recommends Dave and Buster's Entertainment. Try any of our Foolish newsletter services free for 30 days. We Fools may not all hold the same opinions, but we all believe that considering a diverse range of insights makes us better investors. The Motley Fool has a disclosure policy.