Why Darling Ingredients Rose 10% in April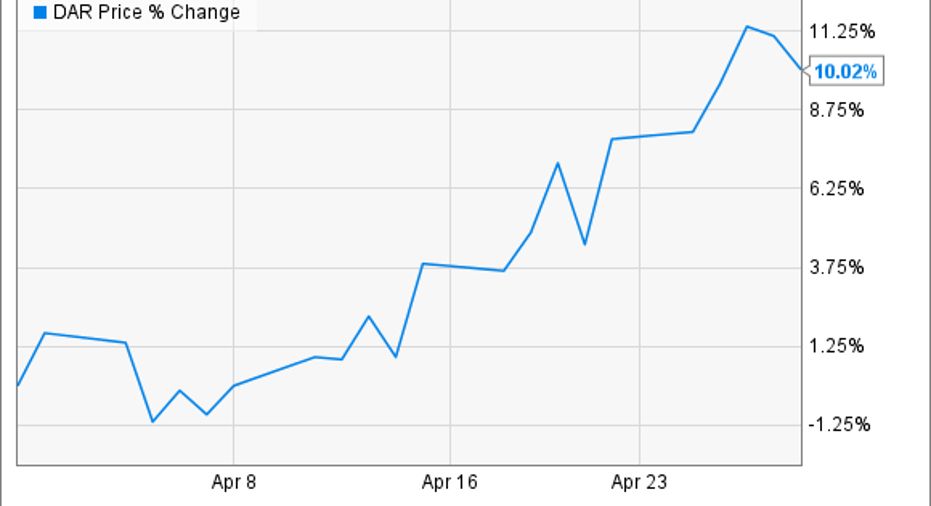 What: Shares of rendering and renewable diesel company Darling Ingredients rose 10% last month, after gaining a whopping 46% in March on the heels of impressive 2015 financial performance. This time the catalyst was a 15% rise in oil prices.
So what: Darling Ingredients' operations are heavily tied to oil prices, both (1) indirectly through trickle-down pricing effects on the commodity food and feed ingredients it sells and (2) directly through fuel ingredients and fuels. While the company's fuel ingredients segment accounted for only 7% of total revenue in 2015, its share of net income from the Diamond Green Diesel joint venture alone would have accounted for 27% of the total from its three business segments. Despite the recent turmoil in oil prices, renewable diesel represents an important growth avenue for investors.
The importance will only continue to grow. On April 7, Darling Ingredients announced plans to expand the nameplate capacity of the Diamond Green Diesel joint venture from 160 million gallons per year to 275 million by 2018.
Now what: I don't think one month of oil price movements in any direction should be enough to warrant much of a reaction from Darling Ingredients investors. Instead, focus on the health of the company, which appears to be excellent. Management's ability to keep costs down, continue growing and acquiring businesses in high-value and high-growth markets, and focus on the long-term viability of the business will be -- and has been -- a crucial advantage to investors when headwinds arise in commodity markets.
The article Why Darling Ingredients Rose 10% in April originally appeared on Fool.com.
Maxx Chatsko has no position in any stocks mentioned. The Motley Fool recommends Darling Ingredients. Try any of our Foolish newsletter services free for 30 days. We Fools may not all hold the same opinions, but we all believe that considering a diverse range of insights makes us better investors. The Motley Fool has a disclosure policy.
Copyright 1995 - 2016 The Motley Fool, LLC. All rights reserved. The Motley Fool has a disclosure policy.