Why Darden Restaurants, Inc. Stock Jumped in November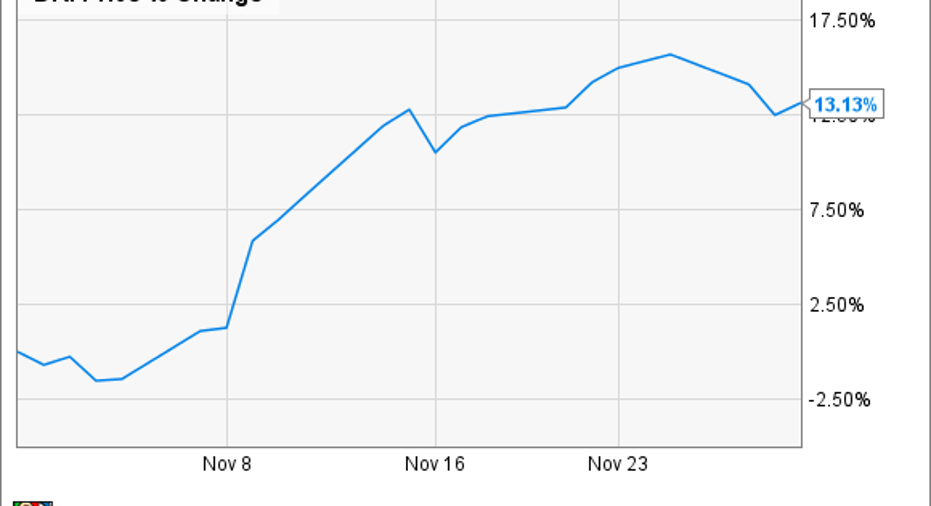 Image source: The Motley Fool.
What happened
Shares ofDarden Restaurants, Inc.(NYSE: DRI) surged last month as the Olive Garden parent got a boost from Donald Trump's election. According to data from S&P Global Market Intelligence, the stock gained 13.1% last month. As the chart below shows, much of those gains came in the days following the election.
So what
There was little news out on Darden in November, but the stock gained in the aftermath of the election, rising 4.6% the day after and 11.4% in the five sessions after it on its way to reaching an all-time high.
The market expects a Trump administration to be friendlier to the restaurant industry as it's expected to resist calls to raise the minimum wage and could reduce regulations on overtime pay and on requiring employers to provide healthcare. Labor is Darden's biggest expense, taking up nearly a third of revenue.
Darden franchises restaurants outside of the U.S, but its domestic restaurants, of which it has more than 1,500, are company-owned, so the chain is more affected by labor policy than restaurants who franchise most of their locations.
Now what
Darden shares are up 32% this year as the company has made a strong turnaround after selling off Red Lobster and taking the direction of activist investor Starboard Value. Comparable sales are increasing at a time when much of the restaurant industry has been challenged, and the company increased its fiscal 2017 earnings guidance in its most recent earnings report.
With the economy reaching full employment and a friendly administration coming into the White House, the stock could continue to move higher. Darden will report second-quarter earnings on December 20. Analysts are expecting EPS of $0.64 and revenue of $1.65 billion.
10 stocks we like better than Darden Restaurants When investing geniuses David and Tom Gardner have a stock tip, it can pay to listen. After all, the newsletter they have run for over a decade, Motley Fool Stock Advisor, has tripled the market.*
David and Tom just revealed what they believe are the 10 best stocks for investors to buy right now...and Darden Restaurants wasn't one of them! That's right -- they think these 10 stocks are even better buys.
Click here to learn about these picks!
*Stock Advisor returns as of Nov. 7, 2016.
Jeremy Bowman has no position in any stocks mentioned. The Motley Fool has no position in any of the stocks mentioned. Try any of our Foolish newsletter services free for 30 days. We Fools may not all hold the same opinions, but we all believe that considering a diverse range of insights makes us better investors. The Motley Fool has a disclosure policy.