Why CVS Health Stock Dropped 18.2% in 2016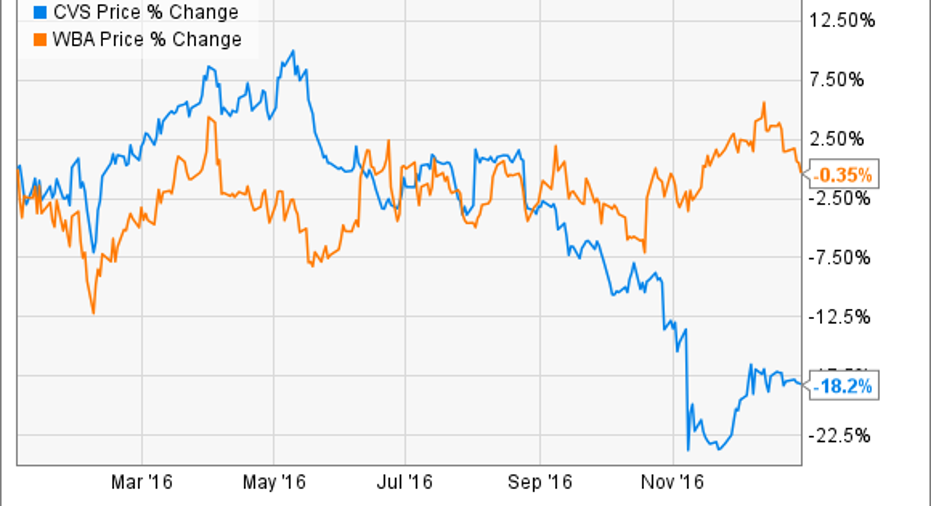 Image source: CVS Health.
What happened
Investors in CVS Health(NYSE: CVS) should be quiterelieved to finally put 2016 in the rearview mirror. Shares of the retail pharmacy giant fell by more than 18% during 2016, according to data fromS&P Global Market Intelligence. That vastly underperformed the company's biggest rival,Walgreens Boots Alliance (NASDAQ: WBA).
So what
CVS Health's year was going just fine up until August. The company produced a string of earnings reports that showeddouble-digit growthon its top and bottom lines. Management also took advantage of the market's weakness to start the year by buying back nearly $4 billion worth of stock in the first two quarters.
However, shares started to show weakness in August after news broke that Walgreens had signed a deal withPrime Therapeutics, the fourth-largest pharmacy benefits manager (PBM) in the country. The agreement is expected to push many of Prime's 22 million members to visit Walgreens' pharmacies instead of CVS'.
If that wasn't bad enough, just a month later Tricare -- the insurance program for the U.S. military -- stated that it was leaving CVS Health's network to link up with Walgreens. Since Tricare provides coverage to over 9 million Americans, this news was another big blow to CVS.
In response to all of thesenetwork changes, CVS Health's management decided to dial back its full-year EPS guidance for both 2016 and 2017. Understandably, this news didn't sit well with investors; shares fell by more than 12%when the news was announced, and the stock has remained weak ever since.
Now what
While the near term is looking murky for CVS Health, I can't help but feel that the selling is nearing an end. After all, CVS Health continues to have a number of growth initiatives working in its favor, including the Minute Clinic rollout, growth in specialty pharmaceuticals and infusion services, and the company's big push into the long-term care market. In addition, management has also announced plans to leverage the company'stechnology investments in an effort to cut costs.
When added together, CEOLarry Merlo continues to believe that the company should still be able to put up 10% annual growth in adjusted earnings per share over the long term. That's a solid growth rate for a company that is trading at a below-market multiple.
There's no doubt that 2016 wasn't CVS Health's finest year, but with10,000 baby boomers retiring every day, the wind remains at this company's back. With share of CVS Health now trading at abargain price, I think it's a great time to get in.
10 stocks we like better than CVS Health When investing geniuses David and Tom Gardner have a stock tip, it can pay to listen. After all, the newsletter they have run for over a decade, Motley Fool Stock Advisor, has tripled the market.*
David and Tom just revealed what they believe are the 10 best stocks for investors to buy right now... and CVS Health wasn't one of them! That's right -- they think these 10 stocks are even better buys.
Click here to learn about these picks!
*Stock Advisor returns as of Nov. 7, 2016
Brian Feroldi has no position in any stocks mentioned.Like this article? Follow him onTwitter where he goes by the handle@BrianFeroldior connect with him on LinkedIn to see more articles like this.The Motley Fool recommends CVS Health. The Motley Fool has a disclosure policy.