Why CTI BioPharma Corp. Stock Popped Today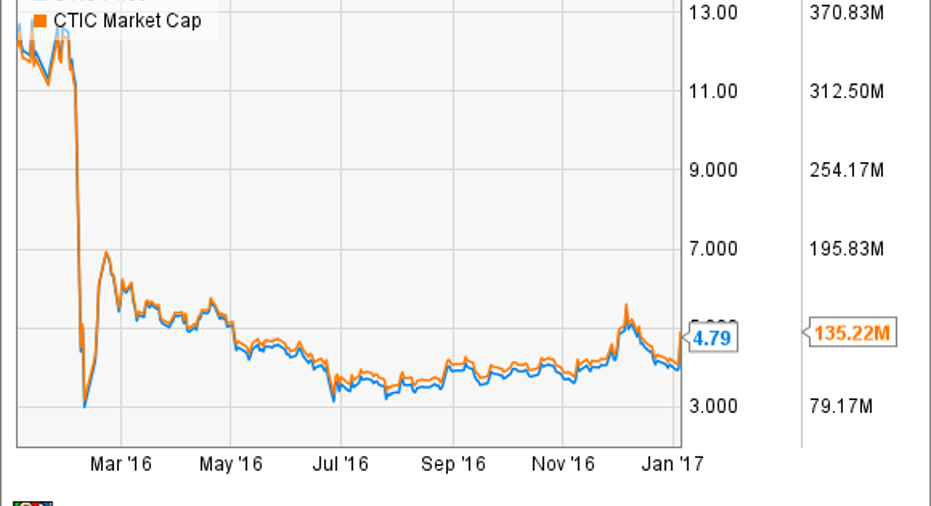 Image source: Getty Images.
What happened
Shares of CTI BioPharma Corp. (NASDAQ: CTIC) had notched a 20.4% gain as of 11:27 a.m. EST today. It appears the blood-cancer-focused biotech will finally be allowed to continue a pivotal trial with pacritinib.
So what
CTI BioPharma stock suffered a severe market beatdown last February when the Food and Drug Administration (FDA) slapped a partial hold on clinical studies with pacritinib. Under the hold, investigators were barred from starting treatment with the experimental myelofibrosis drug, and the development of one of the company's most important assets stalled.
The company has one commercial-stage product in the European Union (EU), but Pixuvri for treatment of extremely difficult-to-treat patients with an aggressive form of non-Hodgkin lymphoma hasn't earned an FDA approval. In the first nine months of 2016, CTI BioPharma recorded just $3.26 million in product sales, which is hardly enough to cover its extensive research and development outlays.
Now what
Adding a second product to its commercial lineup, hopefully pacritinib for treatment of myelofibrosis, is vital to achieving sustainable, positive cash flows. From the beginning of 2016 through the end of September that year, CTI recorded a $46.4 million loss despite receiving $48.3 million from pacritinib development partner Baxalta, which is now a part of Shire(NASDAQ: SHPG).
The company finished September with just $61.6 million in cash and cash equivalents, which suggests another value-diluting share offering will be necessary in the near future just to keep operations humming along. The company's market capitalization sank from around $350 million ahead of the hold to around $135 million at recent prices. That seems awfully cheap for a company with one commercial-stage drug, albeit in the EU only, plus pacritinib, which is ready to begin a pivotal study and has a chance of receiving an expedited review if its application is accepted by the FDA.
Any more hold-worthy side effects associated with pacritinib would be disastrous, but this tiny biotech is worth keeping an eye on this year. Successful results from the greenlighted pivotal trial could make today's gains seem trivial in comparison.
10 stocks we like better than CTI BioPharma When investing geniuses David and Tom Gardner have a stock tip, it can pay to listen. After all, the newsletter they have run for over a decade, Motley Fool Stock Advisor, has tripled the market.*
David and Tom just revealed what they believe are the 10 best stocks for investors to buy right now... and CTI BioPharma wasn't one of them! That's right -- they think these 10 stocks are even better buys.
Click here to learn about these picks!
*Stock Advisor returns as of January 4, 2017
Cory Renauer has no position in any stocks mentioned. You can follow Cory on Twitter @coryrenauer or LinkedIn for more biotech investing insight.
The Motley Fool has no position in any of the stocks mentioned. The Motley Fool has a disclosure policy.