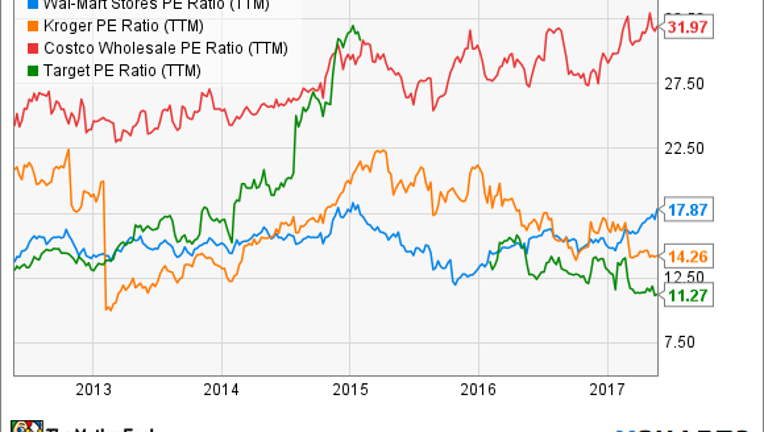 Costco Wholesale (NASDAQ: COST) has been one of the strongest retail stocks in recent years. Shares have more than doubled over the last five years, outperforming the S&P 500 at a time when most of its competitors have suffered.
While its brick-and-mortar peers struggle to overcome e-commerce competition and falling mall traffic, Costco benefits from a membership model that has givenita sticky customer base. Members are happy to scour the big box's aisles for bulk goods and surprises, a privilege that a $60 annual membership fee grants them.
Image source: Costco.
However, while Costco's business has remained stronger than most, with comparable sales consistently climbing, there are some concerns investors should be aware of. Here are a few reasons why Costco shareholders have something to worry about.
1. The valuation is pricey
While Costco shares have more doubled over the last five years, that appreciation isn't entirely due to profit growth. Its earnings multiple has also expanded alongside the market, and the stock now trades at a P/E of 32.
WMT PE Ratio (TTM) data by YCharts.
That is significantly more expensive than its peers as it exceedsWal-Mart's (NYSE: WMT) P/E of 18, Kroger'sat 14, and Target'sat 11. In other words, the market is expecting the warehouse retailer to deliver about twice the level of profit growth of its peers. No other large brick-and-mortar retailer carries such a high valuation, and it may be difficult for Costco to beat those expectations. After the wholesaler raised its membership fee by $5 this year, to $60, analysts expect profits to increase 13% next year, to $6.39, but they will likely slow after that. The stock has proven resilient thus far, but a sustained slowdown in profit growth would slash its valuation.
2. E-commerce is a weakness
In a way, Costco's ability to thrive without a strong e-commerce operation in this era is a testament to the strength of its core business. While many brick-and-mortar chains have had to adapt their business models to fend off Amazon.com(NASDAQ: AMZN), Costco's stores are a shopping destination with the power to draw customers through savings and the "treasure hunt" effect.
However, rivals like Amazon and Wal-Mart are working to leverage the power of e-commerce. Wal-Mart, for example, now offers grocery pickup for online orders at close to a thousand stores. Amazon is experimenting with such a model, and has expanded its Fresh grocery-delivery service to more than a dozen metro areas. Costco's online sales make up less than 3% of overall revenue, and the company has resisted conventional upgrades like buy online, pick up in-store. It could, for instance, build out grocery pickup kiosks to match Wal-Mart, but the company sees the strength of its model as bringing customers into the store to make impulse purchases.
The high expense associated with shipping bulk goods to customers' homes generally rules out that option. As Amazon and Wal-Mart continue to invest in e-commerce, Costco could fall behind for good.
3. Stores are getting less efficient
Costco's comparable sales are still positive, and the company continues to open new stores, but according to one popular metric, the company is becoming less efficient. Sales per square foot measures how efficiently retailers use their real estate, and is an important metric in determining customer demand.
In each of Costco's last two fiscal years, sales per square foot has declined, as the chart below shows, following a trend in decelerating same-store sales growth.
Data source: Costco 10-K filings.
At $1,150 in revenue per square foot, Costco still generates much more revenue than comparable stores, but the company's model produces lower profit margins than competitors like Wal-Mart or Target, so it needs to have higher sales volumes. While many retailers have scaled back on new-store openings, Costco has continued to expand, but if this number keeps falling, management may have to question that strategy.
Unlike some other retailers, Costco isn't about to crumble, but the industry and consumer expectations are quickly shifting around it. The next 10 years for the company will likely not be as easy as the last 10.
10 stocks we like better than Costco WholesaleWhen investing geniuses David and Tom Gardner have a stock tip, it can pay to listen. After all, the newsletter they have run for over a decade, Motley Fool Stock Advisor, has tripled the market.*
David and Tom just revealed what they believe are the 10 best stocks for investors to buy right now... and Costco Wholesale wasn't one of them! That's right -- they think these 10 stocks are even better buys.
Click here to learn about these picks!
*Stock Advisor returns as of May 1, 2017
Jeremy Bowman owns shares of Kroger. The Motley Fool owns shares of and recommends Amazon and Costco Wholesale. The Motley Fool has a disclosure policy.