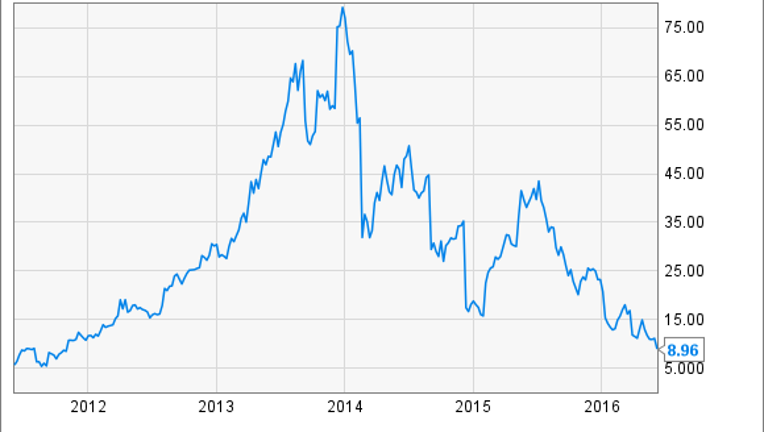 Image Source: Conn's.
What: Shares of retailer Conn's dropped 19.1% in May, according to data provided byS&P Global Market Intelligence. A weak April sales report seems to have driven the decline.
So what: Conn's finances the majority of purchases at its stores in-house, so the credit business is intimately tied to the retail business. Conn's has been forced to tighten its lending standards after loose lending led to a severe contraction in both the company's profits and the stock price over the past two and a half years. This, in turn, has led to declining same-store sales.
Conn's reported April sales results on May 5. Same-store sales fell 3.4%, with furniture being the only category that produced growth. Conn's stated that underwriting changes led to a 650- to 700-basis-point reduction in sales. Even with those changes, the 60-day delinquency rate rose 20 basis points year over year to 8.6%.
Conn's credit business drives its retail business, and the company has the difficult task of lowering its delinquency rate in a way that doesn't have a severe negative effect on sales. So far, Conn's hasn't been able to figure out how to make that work.
Now what: Conn's stock fell another 20% in early June, after the company reported its first-quarter results. The company missed analyst estimates for earnings badly, with the credit business producing a far larger loss compared to the same period last year. Revenue grew because of new store openings, but same-store sales fell 3.4%.
At this point, losses in the credit business are easily wiping out any profit in the retail business. The company expects its results to begin to improve dramatically in fiscal 2018as changes to its credit business pay off. But with Conn's awful record over the past few years, investors are right to be skeptical.
The article Why Conn's Inc. Stock Slumped 19% in May originally appeared on Fool.com.
Timothy Green has no position in any stocks mentioned. The Motley Fool has no position in any of the stocks mentioned. Try any of our Foolish newsletter services free for 30 days. We Fools may not all hold the same opinions, but we all believe that considering a diverse range of insights makes us better investors. The Motley Fool has a disclosure policy.
Copyright 1995 - 2016 The Motley Fool, LLC. All rights reserved. The Motley Fool has a disclosure policy.