Why Conn's Inc. Stock Rose 12% in December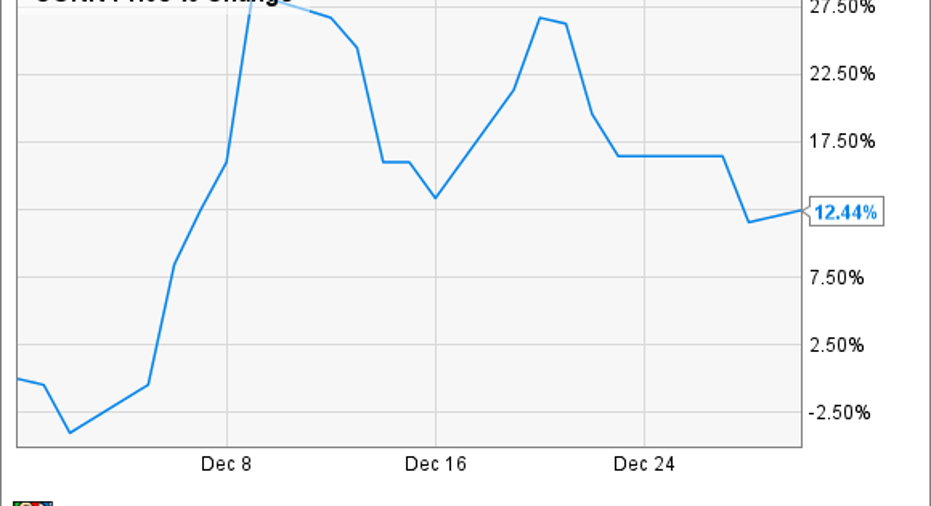 Image source: Conn's.
What happened
Shares ofConn's Inc.(NASDAQ: CONN) popped last month on a better-than-expected third-quarter earnings report. According to data from S&P Global Market Intelligence, shares gained 12%. As the chart below shows, the stock surged in the beginning of the month after the earnings report came out, but faded in the second half.
So what
The rent-to-own retailer of home furnishings and other durable goods had seen its business suffer in recent years due to lax credit requirements, but the company took important steps to tighten lending standards. Nonetheless, it posted an adjusted per-share loss of $0.08, but that figure was better than expectations for a $0.12 loss.
Due to new underwriting requirements, same-store sales fell 10.1%, but adjusting for that, they were down only 0.1%. Retail gross margin increased by 40 basis points sequentially, and the company rolled out its Texas direct loan program ahead of schedule. Nearly half of its stores are in Texas.
The stock jumped 29% in the aftermath of the report.
Now what
Later in the month, the company announced a new chief accounting officer and said its retail president would retire. There seemed to be no direct reason for the ensuing pullback in the stock price, other than its usual volatility. Management issued similar guidance for the fourth quarter and seems to be taking the right steps as CEO Norm Miller said the company was "making meaningful reductions in early stage delinquency."
With the key changes the company is making, I'd expect Conn's to eventually make it back to profitability.
10 stocks we like better than Conn's When investing geniuses David and Tom Gardner have a stock tip, it can pay to listen. After all, the newsletter they have run for over a decade, Motley Fool Stock Advisor, has tripled the market.*
David and Tom just revealed what they believe are the 10 best stocks for investors to buy right now... and Conn's wasn't one of them! That's right -- they think these 10 stocks are even better buys.
Click here to learn about these picks!
*Stock Advisor returns as of January 4, 2017
Jeremy Bowman has no position in any stocks mentioned. The Motley Fool has no position in any of the stocks mentioned. The Motley Fool has a disclosure policy.