Why Community Health Is Crashing by 11% Today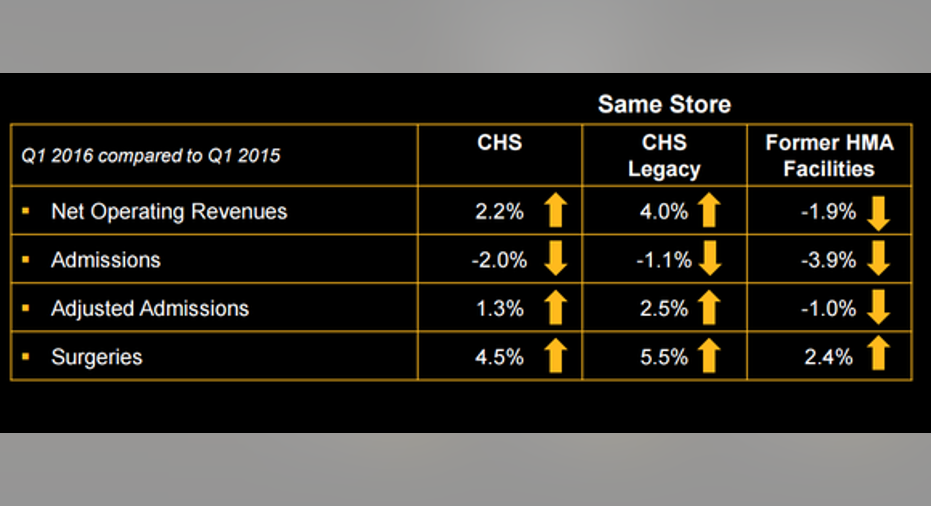 IMAGE SOURCE: COMMUNITY HEALTH SYSTEMS, INC.
What:After Community Health Systems reportedearnings per share far shy of industry watcher's forecasts, its stockdropped by 11.6% at 11:00 a.m. ET today.
So what: The major hospital operator reported ex-items EPS of $0.27 that was well below the consensus estimate projection of $0.74. Adjusted EBITDA in the quarter was $633 million, down from $715 million a year ago and represented an 11.5% decline.
On an operating basis, Community Health's total admissions dipped 2.6% year over year. On a same-store basis, admissions fell 2% on an unadjusted basis but ticked up 1.3% on an adjusted basis. Same-store net operating revenue improved 2.2% in the quarter versus a year ago and reported revenue inched 1.9% higher to $5.75 billion.
IMAGE SOURCE: COMMUNITY HEALTH SYSTEMS, INC.
The results were muddied by line items related to its prior acquisition of HMA and its spinoff of Quorum Health Corporation, a compilation of 38 hospitals in 16 states.
Now what: After the Quorum Health spinoff, Community Health still runs 160 hospitals in 22 states and management expects that those hospitals will generate net operating revenue of at least $17.8 billion this year. The company is also guiding for full-year EPS of at least $2.50 and adjusted same-store admissions growth of 0.5% or higher.
Clearly, this is a transformative year for the company. The benefits of integrating HMA's hospitals and right-sizing its hospital portfolio may take some time to be realized. Investors might also want to consider that the company plans to use the $1.2 billion raised via the Quorum deal to pay down debt. Additional divestitures are also planned that could reduce debt even further. After its divestitures are complete, it should be left with a portfolio that includes its highest-margin hospitals. That could position it to capitalize on future admissions growth related to an American population that is increasingly larger and living longer. In the meantime, however, investors will need to deal with some messy quarters and that could make this the most risky hospital stock in the industry.
The article Why Community Health Is Crashing by 11% Today originally appeared on Fool.com.
Todd Campbell has no position in any stocks mentioned.Todd owns E.B. Capital Markets, LLC. E.B. Capital's clients may have positions in the companies mentioned. Like this article? Follow him onTwitter where he goes by the handle@ebcapitalto see more articles like this.The Motley Fool has no position in any of the stocks mentioned. Try any of our Foolish newsletter services free for 30 days. We Fools may not all hold the same opinions, but we all believe that considering a diverse range of insights makes us better investors. The Motley Fool has a disclosure policy.
Copyright 1995 - 2016 The Motley Fool, LLC. All rights reserved. The Motley Fool has a disclosure policy.