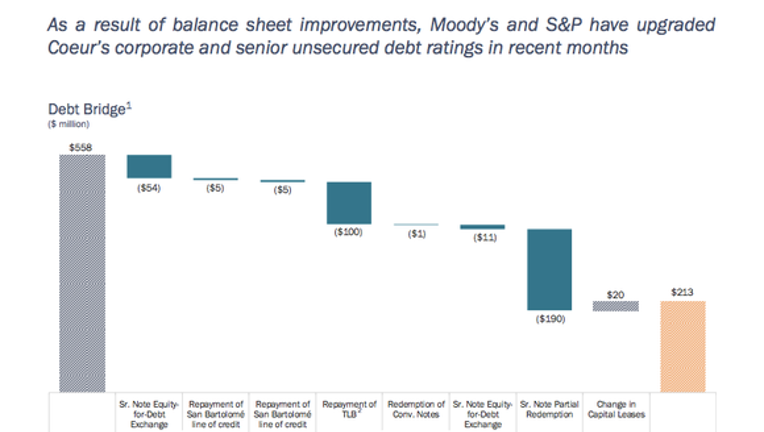 Gold and silver miner Coeur Mining Inc (NYSE: CDE) lost $0.03 a share in the fourth quarter of 2016. It might seem odd that a precious metals miner would post a loss at a time when precious metals prices have been relatively strong. What went wrong? Nothing at all. In fact, investors should be pleased by the red ink because it improves the outlook for Coeur materially from here.
A good quarter and year
Coeur Mining produced a record amount of silver equivalent ounces, which puts silver and gold on equal footing, in the fourth quarter of 2016, pulling roughly 10 million silver equivalent ounces out of the ground. For the full year that figure was 36.3 million silver equivalent ounces, up about 2% over 2015's number. Not amazing growth, but a solid showing just the same.
Image source: Coeur Mining Inc.
All-in sustaining costs, meanwhile, were down 2% per silver equivalent ounce. And sales, general, and administrative expenses decreased by roughly 10% during the year. For the full year, the company earned $0.34 per share versus a loss of $2.83 in 2015. CEO Mitchell Krebs even noted that "2016 marked a key inflection point for Coeur. Our silver equivalent production set a new Company record, operating and non-operating costs continued to decline, adjusted EBITDA increased materially, and we achieved strong earnings for the year."
That said, the year ended on a weak note, with the miner posting a fourth-quarter loss of $0.03 a share. That was better than the same quarter in 2015, but after the company turned a profit in the second and third quarters as precious metals prices recovered, investors might be a bit concerned that Coeur started heading in the wrong direction as the year drew to a close. Indeed, a part of the loss was related to weakening silver prices, but the bigger piece was related to debt -- in a good way.
Issues and non-issues
Precious metals prices are a big deal for Coeur because its costs are relatively high. For example, despite the decline in 2016, its all-in sustaining costs were $15.88 per silver equivalent ounce. So although the company's realized price for silver was a little over $17 an ounce, the costs don't leave much room for the often-volatile precious metal to fall.
Coeur has been focused on fixing its balance sheet. Image source: Coeur Mining Inc.
But Coeur is in much better shape to handle such an adverse change today. And a big part of that has to do with the fourth-quarter loss. That's because fourth-quarter earnings included a one-time expense of $11.3 million related to the early extinguishment of $190 million worth of debt due in 2021. Long-term debt went from roughly $480 million at the start of the year to just about $199 million by the end. Around two-thirds of that change took place in the fourth quarter.
That's a nearly 60% year-over-year decline in debt, a huge change that materially improves Coeur's balance sheet and reduces its ongoing interest expense. To put some numbers on that, long-term debt made up roughly half the miner's capital structure at the start of 2016, but just about 20% by the end of the year. The company took advantage of the improving precious metals market by selling stock and non-core assets, and using the proceeds to deleverage. And now it's in much better financial shape to deal with whatever the future holds for precious metals prices.
A foundation for the future
It wasn't all that long ago that Coeur Mining Inc was carrying a particularly heavy debt load for a company operating in a cyclical industry subject to often-volatile price swings. Management worked throughout 2016 to fix that, but it took the biggest step in the fourth quarter by paying down $190 million worth of long-term debt. Although the company still has debt on the balance sheet, Coeur's financial foundation is much more solid today than it was just a year ago. Sure, it's tough to see a company you own lose money, but in this case, the one-time fourth-quarter charge associated with an early debt extinguishment should prove to be well worth the short-term hit.
10 stocks we like better than Coeur MiningWhen investing geniuses David and Tom Gardner have a stock tip, it can pay to listen. After all, the newsletter they have run for over a decade, Motley Fool Stock Advisor, has tripled the market.*
David and Tom just revealed what they believe are the 10 best stocks for investors to buy right now... and Coeur Mining wasn't one of them! That's right -- they think these 10 stocks are even better buys.
Click here to learn about these picks!
*Stock Advisor returns as of February 6, 2017
Reuben Brewer has no position in any stocks mentioned. The Motley Fool has no position in any of the stocks mentioned. The Motley Fool has a disclosure policy.