Why Clorox Stock Jumped 14% in February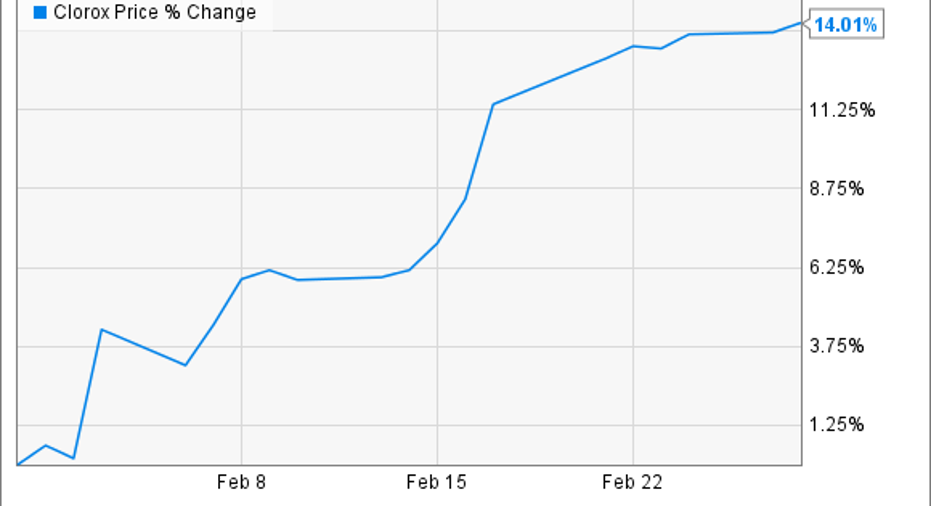 What happened
Clorox (NYSE: CLX) stock rose 14% last month, according to data provided by S&P Global Market Intelligence.
The rally left the consumer products giant just below a new all-time high and put further distance between it and industry rivals like Procter & Gamble (NYSE: PG).
So what
Clorox shares jumped in response to surprisingly strong fiscal second-quarter earnings results. Sales volume was up 8% behind double-digit growth in its home care division, which houses the hit Clorox disinfectant wipe franchise. That result was good enough to mark the highest volume gains for the company in nearly a decade.
Image source: Getty Images.
Profitability expanded as well, ticking up to 44.7% of sales from 44.6% a year ago. "We feel good about our strong sales results to date," Chief Financial Officer Steve Robb said in a press release, "and look forward to continued topline momentum in the second half of the fiscal year supported by our upcoming new product launches."
Now what
Clorox raised its full-year outlook to between 3% and 4% from the prior forecast of between 2% and 4%. The boost should keep the company firmly in market share expansion territory. Procter & Gamble, after all, is projecting a range of between 2% and 3% organic growth for its 2017 fiscal year as its laundry and home care division expands by roughly 2%.
To hit its aggressive targets, Clorox is counting on momentum from its home cleaning brands and a significant boost from the recent acquisition of the RenewLife business. Optimism around its improving business trends has pushed the stock up 20% in the last three months. Yet, given that the company is enjoying record volume growth and steadily rising profitability, investors have good reasons to bid up the shares.
10 stocks we like better than The Clorox CompanyWhen investing geniuses David and Tom Gardner have a stock tip, it can pay to listen. After all, the newsletter they have run for over a decade, Motley Fool Stock Advisor, has tripled the market.*
David and Tom just revealed what they believe are the 10 best stocks for investors to buy right now...and The Clorox Company wasn't one of them! That's right -- they think these 10 stocks are even better buys.
Click here to learn about these picks!
*Stock Advisor returns as of February 6, 2017.
Demitrios Kalogeropoulos has no position in any stocks mentioned. The Motley Fool has no position in any of the stocks mentioned. The Motley Fool has a disclosure policy.