Why Citigroups Shares Climbed 11% in April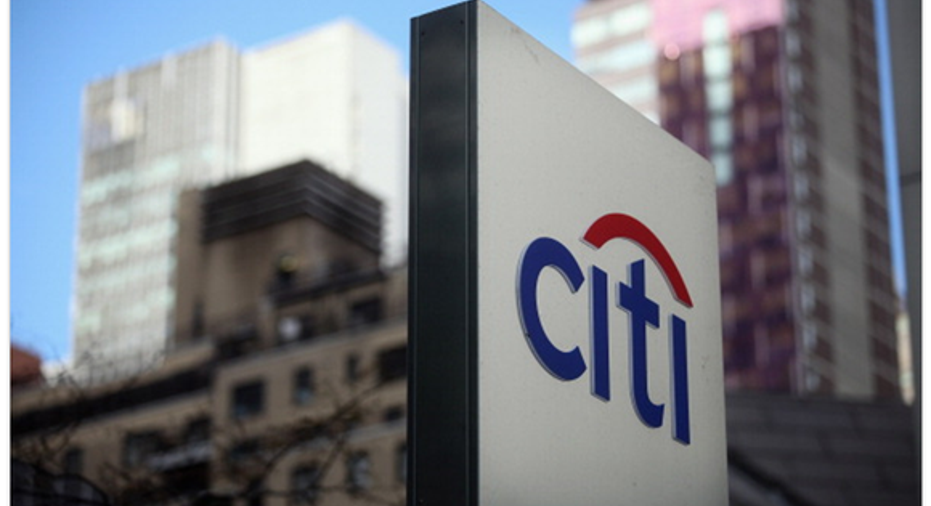 Image source: iStock/Thinkstock.
The month of April was good to Citigroup . The nation's fourth-biggest bank by assets saw its shares climb by 11% throughout the month, outpacing all of its big-bank rivals.
Before getting to the two main reasons why Citigroup's shares performed so well last month, it's worth keeping in mind that its stock is prone to large movements. You can see this by looking at its beta, which measures how much a particular stock moves in relation to the overall market.
A beta over 1.0 means that the underlying stock moves more than the broader market on an average day.
A beta equal to 1.0 means that the stock moves in line with the market.
And a beta below 1.0 means that the stock moves less than the market on a typical day.
In Citigroup's case, its beta is 2.0, according to YCharts.com. This means that, on any given day, investors can expect it to be twice as volatile as the S&P 500. If the latter is up by 1%, then Citigroup will be up, on average, by 2%.
This makes Citigroup the most-volatile big-bank stock in the market today, excluding the stand-alone investment bank Morgan Stanley. The average beta among the nation's commercial biggest banks is 1.38. And the betas of Citigroup's megabank rivals range from a low of 0.90 for Wells Fargoup to 1.76 for Bank of America.
To a certain extent, then, it should come as no surprise that Citigroup's shares moved more than any other big-bank stock last month. Thanks to its incredibly low valuation, which acts as a magnate for speculators, it's simply a lot more volatile than other players in the industry.
Aside from technical metrics like beta, there seem to be two fundamental explanations for Citigroup's outperformance in April. The first is that the $1.7 trillion bank exceeded analyst expectations for first-quarter earnings, earning $1.10 per share relative to the consensus forecast of $1.03.
| Bank | 1Q16 EPS Actual | 1Q16 EPS Expected | Beat/(Miss) |
| --- | --- | --- | --- |
| JPMorgan Chase | $1.35 | $1.26 | 7.1% |
| Bank of America | $0.21 | $0.20 | 5% |
| Wells Fargo | $0.99 | $0.97 | 2.1% |
| Citigroup | $1.10 | $1.03 | 6.8% |
Data source: The Wall Street Journal.
This isn't to say that it was a good quarter. In fact, nothing could be further from the truth. Citigroup's revenue fell by 11% compared to the year-ago period, and its earnings fell by 27%. The latter was fueled, in part, by a $491 million repositioning charge related to the bank's ongoing efforts to simplify and streamline its business model.
But as bad as these results were from a fundamental perspective, they were nevertheless better than expected. The "beat" fueled a 10% increase in its shares the week of bank earnings.
On top of this, as my colleague Alex Dumortier discussed here, Citigroup was the only bank among the top eight U.S. lenders to receive a qualified approval from regulators on its living will -- that is, its plan for winding down in the event that it gets into trouble again in a future crisis. This is a dramatic turn of events for what was, going into the crisis at least, by all accounts the worst-run major American bank.
The market was quick to voice its approval. On the day of the announcement, Citigroup's shares rose 5.6% compared to a 3.8% increase in the KBW Bank Index.
Make no mistake about it: Citigroup still has a long road ahead before it's once again firing on all cylinders. And with a stock that still trades for a 33% discount to book value, investors should expect a rocky ride, as speculators move in and out of the stock in an effort to exploit changing investor sentiment. That aside, a few more months like April could go a long way toward helping Citigroup put the financial crisis in the rearview mirror once and for all.
The article Why Citigroups Shares Climbed 11% in April originally appeared on Fool.com.
John Maxfield owns shares of Bank of America and Wells Fargo. The Motley Fool owns shares of and recommends Wells Fargo. The Motley Fool has the following options: short May 2016 $52 puts on Wells Fargo. The Motley Fool recommends Bank of America. Try any of our Foolish newsletter services free for 30 days. We Fools may not all hold the same opinions, but we all believe that considering a diverse range of insights makes us better investors. The Motley Fool has a disclosure policy.
Copyright 1995 - 2016 The Motley Fool, LLC. All rights reserved. The Motley Fool has a disclosure policy.