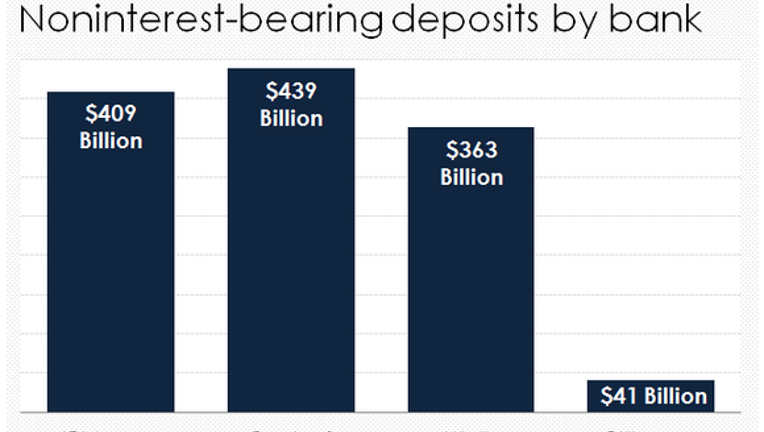 Image source: iStock/Thinkstock.
Every time there's talk that the Federal Reserve could be on the verge of raising interest rates, bank stocks climb. This is because banks make money by underwriting loans, the price of which is tied to interest rates. It's axiomatic, in other words, that higher rates correspond to higher revenue and earnings throughout the bank industry.
But this general rule glosses over an important point. Namely, some banks are less sensitive to higher interest rates than others. I'm referring specifically here to Citigroup (NYSE: C), the nation's fourth biggest bank by assets.
In Citigroup's latest quarterly regulatory filing, it estimates that a 100-basis-point increase in interest rates will translate into an added $2 billion worth of annual net interest income. The same figure at JPMorgan Chase (NYSE: JPM) is $2.8 billion. And Bank of America (NYSE: BAC) estimates that it would earn an additional $5.3 billion under this same scenario.
There are a number of reasons that Citigroup is less sensitive to higher rates than its two closest peers, but one of the most important stems from the paltry amount of non-interest-bearing deposits that the New York-based bank relies on to fund its assets, which is a consequence of its decision to eschew a domestic branch network.
Data source: Quarterly earnings supplements. Chart by author.
In the third quarter, which ended Sept. 30, Citigroup had an average balance of $41 billion in non-interest-bearing deposits. That's a lot of money, to be sure, but it pales in comparison to JPMorgan Chase and Bank of America, each of which has more than $400 billion worth of essentially free money -- I also included Wells Fargo in the chart, but because it isn't as transparent in its regulatory filings about its interest rate sensitivity, I've otherwise excluded the California-based bank from this discussion.
And it's not just in absolute terms that Citigroup trails its peers in this regard. The same is true if you compare the share of Citigroup's total funding sources that don't bear interest relative to the share that does. Only 2.5% of its funds don't bear interest. That compares to 18% at JPMorgan Chase and 23% at Bank of America.
Data source: Quarterly earnings supplements. Chart by author.
The net result is that, when interest rates rise JPMorgan Chase and Bank of America will both see the revenue they earn from their loan and securities portfolios increase at a faster pace (relative to Citigroup) than their interest expenses, as a healthier share of their funds don't bear any interest and thus won't change in price at all.
This may go without saying, but this goes a long way toward explaining why Citigroup's shares have underperformed its peers since the outcome of the presidential election convinced analysts, investors, and economists that higher interest rates are on the near-term horizon. If this prediction comes to fruition, Citigroup will indeed benefit, but to a lesser extent than Bank of America and JPMorgan Chase.
10 stocks we like better than Citigroup When investing geniuses David and Tom Gardner have a stock tip, it can pay to listen. After all, the newsletter they have run for over a decade, Motley Fool Stock Advisor, has tripled the market.*
David and Tom just revealed what they believe are the ten best stocks for investors to buy right now... and Citigroup wasn't one of them! That's right -- they think these 10 stocks are even better buys.
Click here to learn about these picks!
*Stock Advisor returns as of November 7, 2016
John Maxfield owns shares of Bank of America and Wells Fargo. The Motley Fool owns shares of Wells Fargo. Try any of our Foolish newsletter services free for 30 days. We Fools may not all hold the same opinions, but we all believe that considering a diverse range of insights makes us better investors. The Motley Fool has a disclosure policy.