Why Chipotle Stock Tumbled 21% in 2016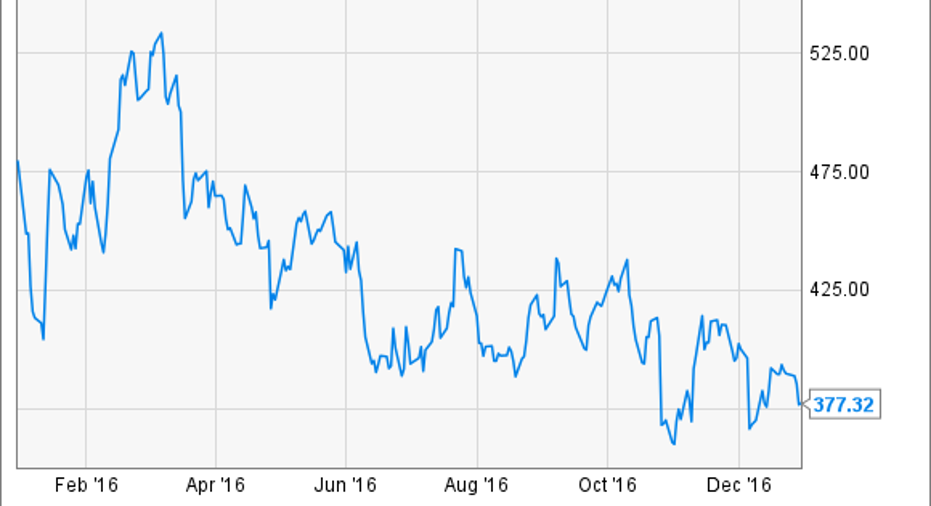 Image source: Chipotle.
What happened
Shares of Chipotle Mexican Grill (NYSE: CMG) dropped 21.4% in 2016, according to data provided byS&P Global Market Intelligence. The aftermath of Chipotle's food safety crisis in 2015, when cases of E. coli and norovirus popped up at Chipotle restaurants around the country, led to a steep drop in sales and profits in 2016. With the company unable to recover quickly, investors spent the year selling off the stock.
So what
Comparable sales plunged 29.7% during the first quarter of 2016, driven by a significant number of customers staying away from the chain. A 36.4% decline in comparable sales in January marked the bottom, but sales remained weak all year. Comparable sales fell 23.6% in the second quarter and 21.9% in the third quarter.
Transactions declined by less as Chipotle boosted its marketing spending and increased its promotional activity. Chiptopia, a temporary rewards program that ran during the summer months, was the company's first foray into the world of loyalty programs. Prior to the outbreaks, customers needed little prodding to visit the Chipotle's restaurants.
As Chipotle begins to lap the worst of its results, the numbers will begin to look better. The company disclosed in January that comparable sales decreased by just 4.8% during the fourth quarter. Higher-than-expected operating costs are expected to drive down profits, however, with TV advertising and higher avocado costs hurting the bottom line.
Now what
Chipotle expects to return to comparable sales growth in 2017, although two-year comparable sales will likely remain negative. The company is aiming for around $10 of per-share earnings for the year, a major improvement over 2016 but well below the EPS of $15.10 Chipotle reported in 2015.
How long it will take for Chipotle to fully recover remains to be seen. Higher marketing costs may end up becoming a permanent feature of Chipotle's business model, making it more difficult to return to previous levels of profitability. The fast-casual restaurant industry is more competitive than ever, putting Chipotle in a difficult position as it attempts to right the ship.
Chipotle stock still trades at 40 times EPS guidance for this year, a price that reflects confidence that the company can turn things around. With such a lofty valuation, any major issues in 2017 could send the stock even lower.
10 stocks we like better than Chipotle Mexican Grill When investing geniuses David and Tom Gardner have a stock tip, it can pay to listen. After all, the newsletter they have run for over a decade, Motley Fool Stock Advisor, has tripled the market.*
David and Tom just revealed what they believe are the 10 best stocks for investors to buy right now... and Chipotle Mexican Grill wasn't one of them! That's right -- they think these 10 stocks are even better buys.
Click here to learn about these picks!
*Stock Advisor returns as of January 4, 2017
Timothy Green has no position in any stocks mentioned. The Motley Fool owns shares of and recommends Chipotle Mexican Grill. The Motley Fool has a disclosure policy.