Why Chipotle Mexican Grill, Pandora Media, and Fossil Group Slumped Today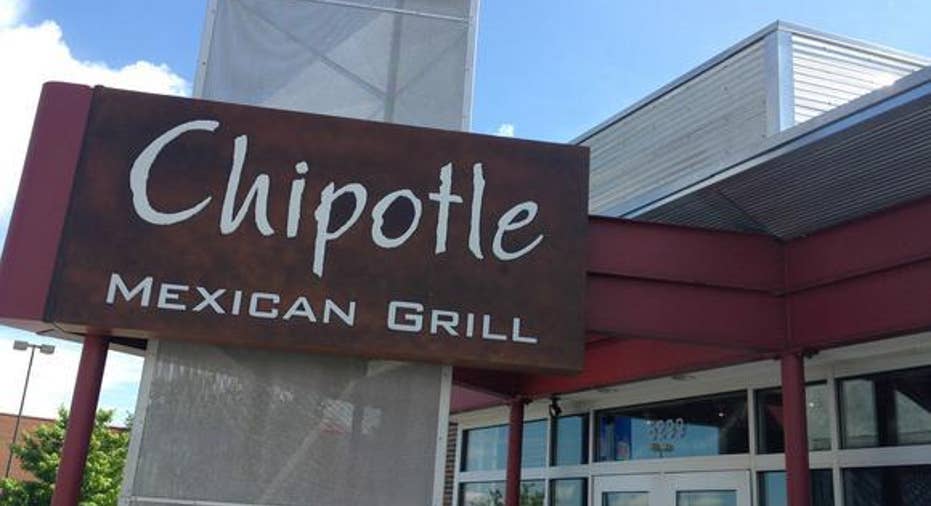 The stock market didn't feel any New Year's cheer on Monday, with a large market decline in China working its way westward across the globe and hitting stocks worldwide to begin 2016. Fears of continued weakness in emerging-market economies hurt markets in many nations, and the potential for heightened instability in the Middle East also put investors on the defensive in the first trading session of the year. Among the many stocks posting substantial gains on Monday were Chipotle Mexican Grill , Pandora Media , and Fossil Group .
Chipotle Mexican Grill dropped 6% and hit its worst level since late 2013 as analysts gave negative views of the fast-casual Mexican food chain to begin the year. After having dealt with numerous incidents involving illnesses tied to its food products, Chipotle could have trouble producing any comparable-restaurant sales gains throughout the entire year. With the fast-casual chain already expecting to see double-digit drops in comps for the fourth quarter in the immediate aftermath of the incidents, the question investors have to ask is how quickly Chipotle can bounce back and restore its reputation. Analysts believe that Chipotle will face an uphill battle in doing so, and with ample other offerings in the fast-casual space, there's no reason to expect customers to remain loyal to the Mexican-food restaurant if they can get equally desirable offerings elsewhere.
Pandora Media declined almost 9% after the streaming music company faced an analyst downgrade and criticism in the financial media. An article in Barron's over the weekend suggested that valuations for Pandora were too high to justify the risks involved, especially with no assurances that Pandora will be able to produce significant user or subscriber growth in the immediate future. Moreover, with ongoing uncertainty about how much the company might end up having to pay for content, Pandora's expenses could face upward pressure that would further eat into any potential profits. With so many alternatives available for those seeking musical content, Pandora has arguably used up its first-mover advantage without decisively capturing the market, and that could bode ill for investors in the stock.
Finally, Fossil Group fell 6%. Analysts at Jefferies downgraded the stock and cut its price target by more than 40%, citing the substantial slowdown in Fossil's growth rate that it expects going forward. As trends in the fashion industry move away from watches, Fossil will face the challenge of having to adapt to changing conditions that will force it to adjust dramatically, and analysts aren't certain that the watchmaker will be able to reinvent itself abruptly enough to produce immediate results. Smartwatches will likely siphon demand away from traditional Fossil offerings, and with some of the company's brand relationships with other fashion names facing their own struggles, the risks involved in the sector currently make holding onto Fossil shares too much of a gamble in the eyes of many.
The article Why Chipotle Mexican Grill, Pandora Media, and Fossil Group Slumped Today originally appeared on Fool.com.
Dan Caplinger has no position in any stocks mentioned. The Motley Fool owns shares of and recommends Chipotle Mexican Grill and Pandora Media. The Motley Fool recommends Fossil. Try any of our Foolish newsletter services free for 30 days. We Fools may not all hold the same opinions, but we all believe that considering a diverse range of insights makes us better investors. The Motley Fool has a disclosure policy.
Copyright 1995 - 2016 The Motley Fool, LLC. All rights reserved. The Motley Fool has a disclosure policy.