Why Chipotle Mexican Grill, Inc. Stock Bounced Back From Its 10.6% Drop in April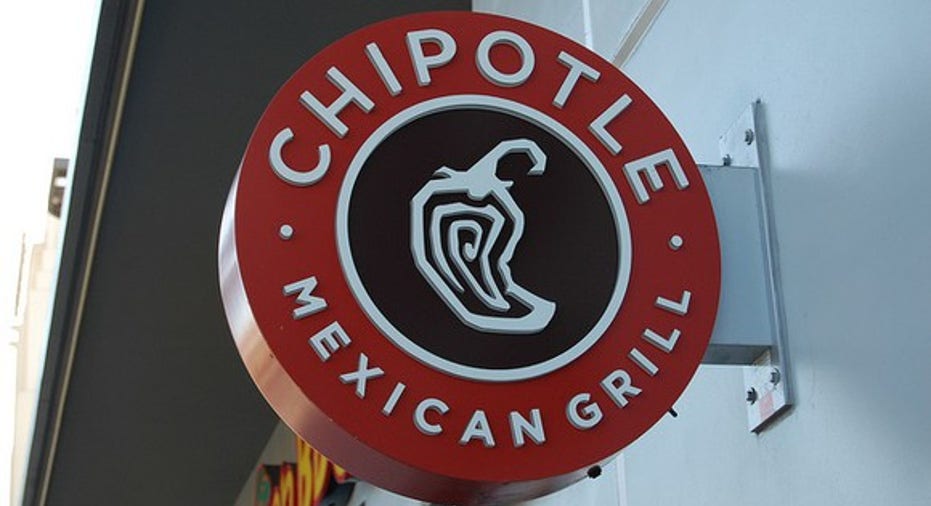 What:Shares ofChipotle Mexican Grillfell 10.6% in the month of April, according to data provided byS&PGlobal Market Intelligence, after the fast-casual burrito specialist reported its first-ever quarterly loss. However, Chipotle stock has largely recovered from last month's drop as of this writing as the market digests what its loss means in light of the stock's precipitous decline in recent months. The company has also bolstered its share repurchase program.
So what:There was no sugarcoating Chipotle's pain when it released its official first-quarter report on April 26, 2016. Revenue declined 23.4% year over year, to $834.5 million, driven by a 29.7% drop in comparable-restaurant sales. That resulted in a net loss of $26.4 million, or $0.88 per diluted share, compared to net income of $122.6 million, or $3.88 per share in last year's first quarter.
But I also recall being pleasantly surprised when I saw that Chipotle stock "only" dropped 6.5% the following day -- a mild reaction to such seemingly stark news. I regularly watch other stocks decline 10%, 20%, or even 30%+ after they fall short of Wall Street's near-term expectations in any given quarter.
You would have been hard-pressed to find an analyst who wasn'texpecting Chipotle to turn in dismal quarterly results last month as it struggled with declining traffic in recent months following an E. Coli outbreak, which the CDC linked to Chipotle's restaurants. Shares of Chipotle had already fallen more than 40% from their 52-week-high leading up to last month's announcement.
Now what: With that in mind, value seekers began to pile in given comments from management on signs of improvement. As of Chipotle's earnings conference call, comps for April were down 20% compared to a harrowing 36% plunge that the company experienced in January. And the bulls were further emboldened this week when Chipotle revealed its board has approved a $100 million increase to an already-ambitious share-repurchase program under which the company had already spent $956 million repurchasing and retiring shares since November 1, 2015 through the quarterly report.
This latest boost seems to indicate that Chipotle is continuing to make progress toward returning to sustained, profitable growth, so it's no surprise that the market is responding in kind.
The article Why Chipotle Mexican Grill, Inc. Stock Bounced Back From Its 10.6% Drop in April originally appeared on Fool.com.
Steve Symington has no position in any stocks mentioned. The Motley Fool owns shares of and recommends Chipotle Mexican Grill. Try any of our Foolish newsletter services free for 30 days. We Fools may not all hold the same opinions, but we all believe that considering a diverse range of insights makes us better investors. The Motley Fool has a disclosure policy.
Copyright 1995 - 2016 The Motley Fool, LLC. All rights reserved. The Motley Fool has a disclosure policy.