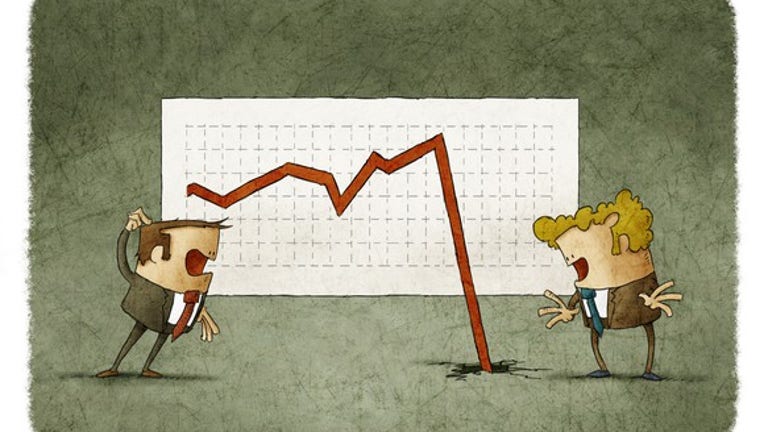 What happened
Chesapeake Energy (NYSE: CHK) stock plunged after reporting earnings Thursday, closing the day down 7.4%.
So what
Don't blame Chesapeake, though. This time, it really wasn't the company's fault. On Thursday, Chesapeake reported 41% year-over-year sales growth and $0.08 in net income per diluted share -- a huge turnaround for the company after losing $1.66 per share in the year-ago quarter. Sales came in at $2.75 billion, well ahead of Wall Street's predicted $2.32 billion.
Speaking of the Street, pro forma profits, which are what interests Wall Street most, were similarly stellar. Chesapeake's "adjusted income per share" was $0.23, $0.04 ahead of analysts' expectations of $0.19.
Image source: Getty Images.
Now what
None of that mattered to investors, though. Chesapeake, you see, credited "an increase in the average realized commodity prices" for helping its profits in its fiscal Q1 2017. But at the same time as Chesapeake was announcing its good news, global oil prices dropped below $46 today -- and Chesapeake stock is being punished for that.
This seems unfair -- but may actually not be. After all, if strong oil prices helped Chesapeake last quarter, then weaker prices could just as easily hurt it this quarter. Even management's promise to grow "adjusted production" by as much as 4% this year may not be enough to overcome oil prices that have fallen 15% over the past three weeks -- and not enough to ensure Chesapeake can earn a profit this year.
10 stocks we like better than Chesapeake EnergyWhen investing geniuses David and Tom Gardner have a stock tip, it can pay to listen. After all, the newsletter they have run for over a decade, Motley Fool Stock Advisor, has tripled the market.*
David and Tom just revealed what they believe are the 10 best stocks for investors to buy right now... and Chesapeake Energy wasn't one of them! That's right -- they think these 10 stocks are even better buys.
Click here to learn about these picks!
*Stock Advisor returns as of May 1, 2017
Rich Smith has no position in any stocks mentioned. The Motley Fool has no position in any of the stocks mentioned. The Motley Fool has a disclosure policy.