Why Central European Media Enterprises Ltd. Jumped 22% Today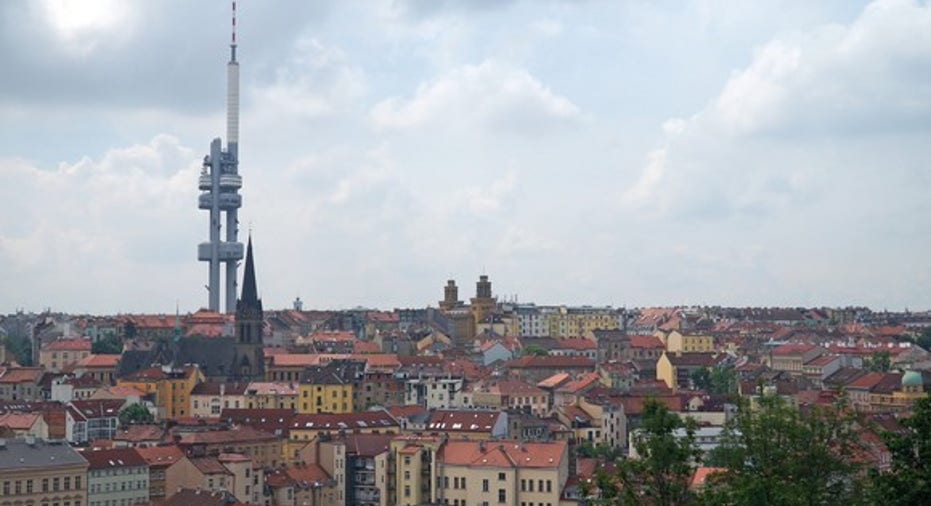 What happened
Shares of Central European Media Enterprises (NASDAQ: CETV) jumped as much as 21.9% higher in Wednesday's morning session, boosted by a fresh first-quarter earnings report.
So what
In the first quarter, the Balkan TV broadcaster saw operating profits rise 59% year over year on 4.7% higher net revenue. The company recorded a $0.09 net loss per share, up from a $0.31 loss per share in the year-ago period. The increases would have been even larger if CME weren't reporting results in U.S. dollars, as the dollar has strengthened recently against the euro and various currencies local to the company's markets.
The iconic Zizkov TV Tower over Prague, at the heart of CME's operations. Image source: Getty Images.
Now what
Strong results in Bulgaria and Romania easily overpowered Slovenian weakness. Management expects the fundamental business strength to continue throughout fiscal year 2017. A recent round of debt refinancing has reduced CME's quarterly interest expenses by half, moving the company closer to sustainable bottom-line profits.
"We feel confident that we are on track for yet another year of strong earnings growth and significant deleveraging," said co-CEO Michael Del Nin in a prepared statement.
The stock is now trading at three-year highs, but investors still have a long way to go before revisiting 2007's glory days of $120 share prices. For the record, CME shares are trading just above $4 today.
The company's book value has dropped into negative territory recently, but credit ratings expert Moody's isn't terribly concerned about further deterioration or bankruptcy risks. The agency raised CME's corporate credit rating a year ago, giving it a more stable level of speculative credit quality. American media giant Time Warner (NYSE: TWX) holds a controlling 76% stake in this company, providing both a reliable content partner and an effective guardian against sudden threats.
CME earned today's big jump, and could be an interesting ticker for deep-discount value investors. That Time Warner connection looks like a big, comfy safety net. It's in Time Warner's best interest to help CME succeed, after all.
10 stocks we like better than Central European Media EnterprisesWhen investing geniuses David and Tom Gardner have a stock tip, it can pay to listen. After all, the newsletter they have run for over a decade, Motley Fool Stock Advisor, has tripled the market.*
David and Tom just revealed what they believe are the 10 best stocks for investors to buy right now... and Central European Media Enterprises wasn't one of them! That's right -- they think these 10 stocks are even better buys.
Click here to learn about these picks!
*Stock Advisor returns as of April 3, 2017
Anders Bylund has no position in any stocks mentioned. The Motley Fool recommends Time Warner. The Motley Fool has a disclosure policy.