Why Celldex Therapeutics, Inc. Popped Today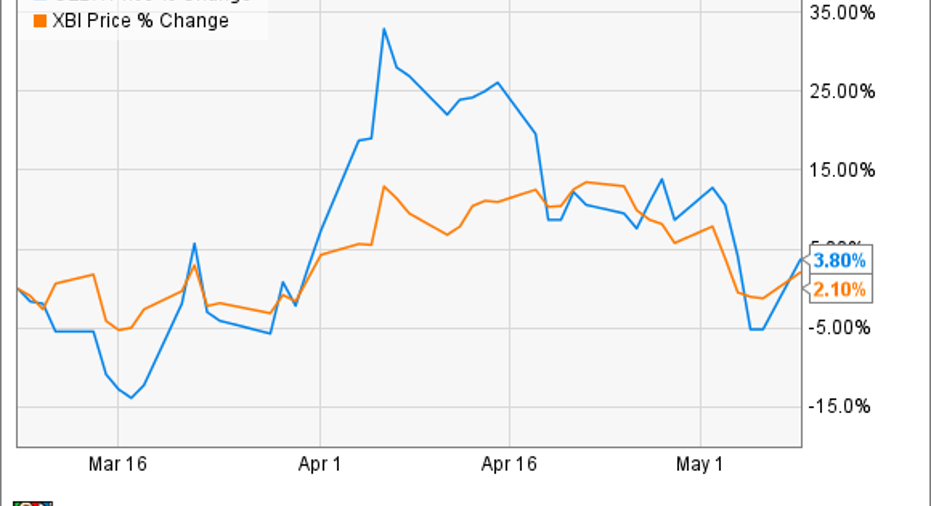 Image source: Celldex Therapeutics.
What: Celldex Therapeutics jumped 12% today on no apparent news other than it's a biotech. The sector had a good day, with the SPDR S&P Biotech ETF ending the day up 3.8%.
So what:Since Rintega failed its phase 3 trial in March, Celldex's share price movement has generally been in sync with the index but more extreme in both directions. That's pretty typical for many biotechs; the further out the next binary event is, the more likely a company's short-term movements will be based on sentiment rather than fundamentals.
Now what: Investors will have to wait for data from ongoing phase 2 trials to see a value inflection. Celldex recently completed enrolment in a phase 2 trial testing glembatumumab vedotin in metastatic melanoma and is still enrolling a phase 2b trial in patients with metastatic triple-negative breast cancers. It also recently started a phase 2 trial combining another cancer drug, varlilumab, with Bristol-Myers Squibb's Opdivo.
Celldex ended the first quarter with $254 million in the bank, which management thinks should be enough to complete the current trials and begin new ones. If the current trials are successful, the valuation will hopefully be higher, resulting in less dilution from a secondary offering, or a better partnership deal if the company ends up licensing one or both of the drugs to a larger drug company.
The article Why Celldex Therapeutics, Inc. Popped Today originally appeared on Fool.com.
Brian Orelli has no position in any stocks mentioned. The Motley Fool recommends Celldex Therapeutics. Try any of our Foolish newsletter services free for 30 days. We Fools may not all hold the same opinions, but we all believe that considering a diverse range of insights makes us better investors. The Motley Fool has a disclosure policy.
Copyright 1995 - 2016 The Motley Fool, LLC. All rights reserved. The Motley Fool has a disclosure policy.