Why Celldex Therapeutics Imploded in 2016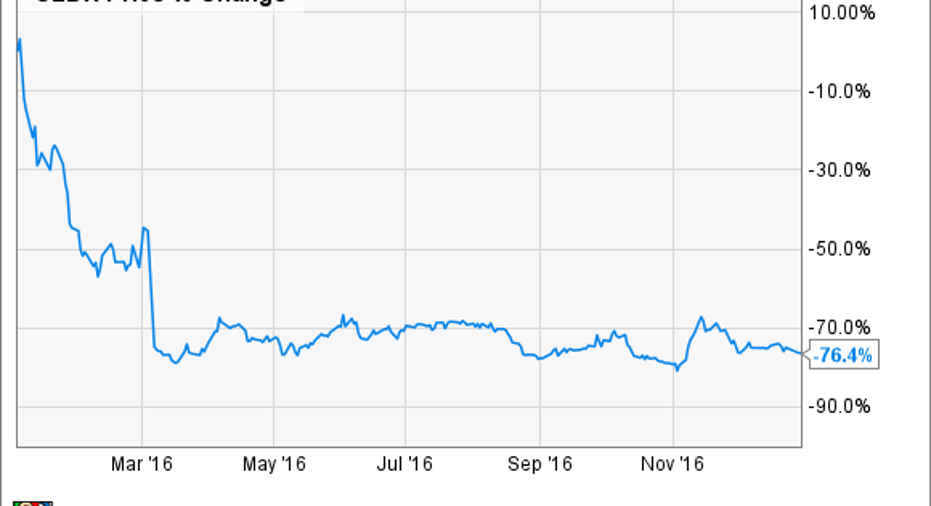 What happened
According to data fromS&P Global Market Intelligence, Celldex Therapeutics (NASDAQ: CLDX), a clinical-stage biotech, lost approximately three-quarters of its value last year.
The biotech's dismal 2016 was sparked by the failure of its experimental vaccine Rintega in a late-stage trial assessing its ability to improve overall survival in patients withnewly diagnosedEGFRvIII-positive glioblastoma.
So what
Glioblastoma is a highly aggressive form of brain cancer with an extremely poor prognosis and no disease-modifying therapies currently on the market -- implying that Rintega could have been a tremendous long-term value driver for the company.
Image Source: Getty Images.
Perhaps most importantly, though, Rintega's failure dashed any hopes of Celldex transforming into a cash flow positive operation anytime in the near future, and shifted the onus for value creation to the company's less advanced clinical assets like the antibody-drug conjugate glembatumumab vedotin ("glemba")and the immune modulating antibody varlilumab.
Now what
Despite a fairly robust pipeline of anti-cancer drugs that got even stronger following the recent acquisition ofKolltan Pharmaceuticals, Celldex doesn't appear to have the necessary ingredients to rebound this year. After all, this developmental biotech has already been burning over $30 million per quarter lately, and that number is bound to rise as glemba's pivotal trial fortriple-negative breast cancer (TNBC) progresses into its final stages and Kolltan's integration unfolds over the next few quarters.
In other words, Celldex may not be able to wait until glemba's top line data readout for TNBC in early 2018 to raise capital. That doesn't necessarily mean that this cancer specialist isn't worth watching this year, however.
On the contrary, Celldex's market cap of less than $500 million, combined with its diverse mix of anti-cancer drug candidates, arguably makes it one of the more compelling value stories within the high-flying biotech space. So while investors may want to wait until the company's pipeline matures a little more and its long-term financing needs are in place, this stock could eventually revisit and perhaps surpass its 2016 highs within the next two to three years.
10 stocks we like better than Celldex Therapeutics When investing geniuses David and Tom Gardner have a stock tip, it can pay to listen. After all, the newsletter they have run for over a decade, Motley Fool Stock Advisor, has tripled the market.*
David and Tom just revealed what they believe are the 10 best stocks for investors to buy right now... and Celldex Therapeutics wasn't one of them! That's right -- they think these 10 stocks are even better buys.
Click here to learn about these picks!
*Stock Advisor returns as of January 4, 2017
George Budwell has no position in any stocks mentioned. The Motley Fool recommends Celldex Therapeutics. The Motley Fool has a disclosure policy.