Why Celator Pharmaceuticals Is Up 1,610% in 2016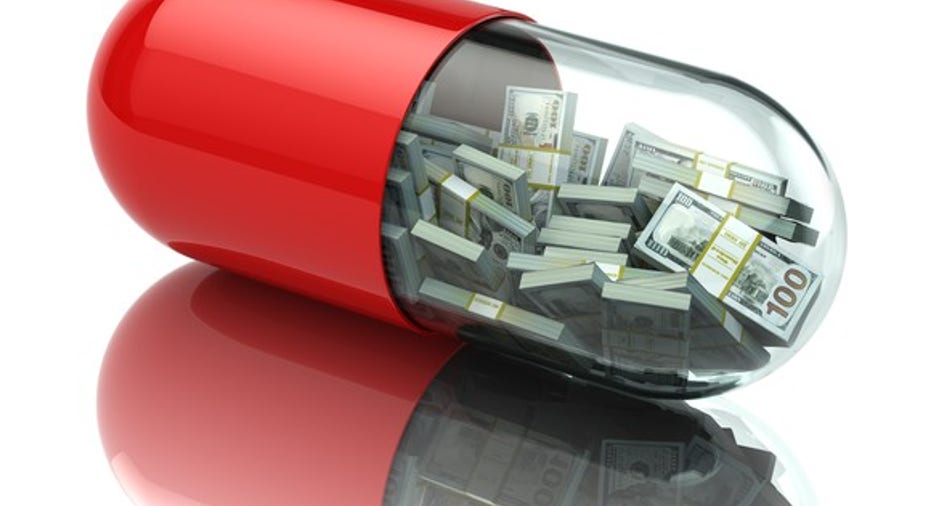 Image source: Getty Images.
What: Shares of Celator Pharmaceuticals , a clinical-stageoncology-focused biopharmaceutical company, have rocketed 1,610% higher year to date,according to data from S&P Global Market Intelligence. Stellar data from a candidate aimed at an underserved population, and subsequent acquisition by Jazz Pharmaceuticals launched this biotech into orbit.
So what:Acute myeloid leukemia (AML) is a form of blood cancer desperately in need of new treatment options. Three days of short daunorubicin infusions combined with seven days of around the clock cytarabine infusions, has been the standard-of-care for decades. Sadly it isn't terribly effective with five-year survival rates for patients under 60-years old of about 30% to 35%, and much lower for older patients that comprise the majority of the 20,830 new AML diagnoses in the U.S. last year.
Liposome cross section image source: National Cancer Institute.
Celator's approach to improving these dismal statistics, Vyxeos, is a combination of the same chemo drugs,cytarabine and daunorubicin, squeezed into lysosome. As you can see in the image a lysosome is essentially two layers of lipids that form a tiny capsule, and using one to deliver the standard chemo drugs made a big difference.
Celator's stock popped in March when it announced Vyxeos significantly improved overall survival in secondary AML patients (those with a previous malignancy) compared to the standard of care, from 5.95 months, to 9.56 months. An impressive 31.1% of patients receiving Vyxeos were still alive after 24 months, versus just 12.3% of those that received the standard treatment.
Celator's stock shot up again at the end of May when Jazz Pharmaceuticals announced it would buy the company for $1.5 billion, or about $30.25 per share, in cash. A premium of more than 70% per share, based on the stock price just ahead of the announcement.
Now what:Despite the premium Jazz paid for Celator, and Vyxeos, it could come out ahead, if the drug earns approval. After the standard chemo regimen drives a patient's AML into remission, they're sometimes given an infusion of stem cells to restore bone marrow function. These hematopoietic stem cell transplants sometimes cause a dangerous side effect that Jazz's Defitelio recently earned FDA approval to treat.If more patients are driven into remission with Vyxeos, its Defitelio could see increased use as well.
Going forward, however, investors will want to keep an eye onJuno Therapeutics and its candidate JTCR016, which finished a phase 1 trial AML trial with good results,and is currently in a phase 1/2 study with high-risk AML and other patients. This therapy involves re-engineering immune cells to attack cancer cells, and could upend, or compliment, Vyxeos. At this stage it's far too early to tell.
The article Why Celator Pharmaceuticals Is Up 1,610% in 2016 originally appeared on Fool.com.
Cory Renauer has no position in any stocks mentioned. You can follow Cory on Twitter @TMFang4apples or connect with him on LinkedIn for more healthcare industry insight. The Motley Fool recommends Juno Therapeutics. Try any of our Foolish newsletter services free for 30 days. We Fools may not all hold the same opinions, but we all believe that considering a diverse range of insights makes us better investors. The Motley Fool has a disclosure policy.
Copyright 1995 - 2016 The Motley Fool, LLC. All rights reserved. The Motley Fool has a disclosure policy.