Why Celator Pharmaceuticals, Inc. Soared Higher Today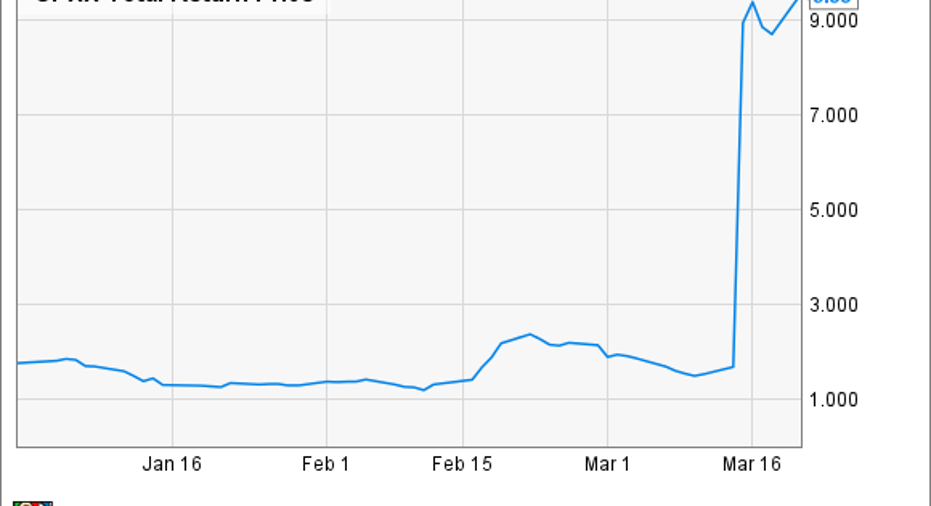 SOURCE: CELATOR PHARMACEUTICALS
What: Following the release of its fourth quarter and full year financials, shares of Celator Pharmaceuticals are rallying 10.8% at 3:30 p.m. Monday.
So what: This tiny market cap biotech recently surprised investors with bullish phase 3 trial results for Vyxeos, a nano-scale liposome encased mash-up of the chemotherapy drugs cytarabine and daunorubicin, that sent shares surging 450%, and on Monday, the company updated investors on its timeline for regulatory filings for Vyxeos approval.
CPXX Total Return Price data by YCharts
In trials, overall survival in secondary acute myeloid leukemia (AML) patients receiving Vyxeos was 9.56 months and that was significantly better than the 5.95 months experienced within the control arm of the study, which was given the standard combination of cytarabine and daunorubicin.
Today, management reinforced its plans to file for FDA approval of Vyxeos in the third quarter and to similarly file for EU approval by the end of Q1, 2017.
Now what: Secondary AML is notoriously tough-to-treat and there have been few treatment advances in the indication over the past decade. Although Celator Pharmaceuticals' Vyxeos is still a chemotherapy, and therefore, still poses safety risks, the fact that it delivered best-in-class efficacy with a similar safety profile to standard-of-care suggests it may revolutionize patient treatment.
Investors should remember, however, that Celator Pharmaceuticals is a clinical stage company with no revenue and just $23 million in cash on its books exiting December.
Management firmed up its cash position by raising an additional $9.8 million in Q1 via an at-the-market offering, but even so, guidance is for that cash to run out in mid-2017. Given that the company's filing timeline means that a FDA decision wouldn't be likely until about the same time, there's a good possibility that Celator Pharmaceuticals will need to tap markets for additional financing at some point to fuel the commercial launch of Vyxeos next year. Because of that, investors should still approach this company cautiously, because any stumble in its timeline, or with Vyxeos FDA application, could take a big toll on the company's shares.
The article Why Celator Pharmaceuticals, Inc. Soared Higher Today originally appeared on Fool.com.
Todd Campbell has no position in any stocks mentioned. Todd owns E.B. Capital Markets, LLC. E.B. Capital's clients may have positions in the companies mentioned. The Motley Fool has no position in any of the stocks mentioned. Try any of our Foolish newsletter services free for 30 days. We Fools may not all hold the same opinions, but we all believe that considering a diverse range of insights makes us better investors. The Motley Fool has a disclosure policy.
Copyright 1995 - 2016 The Motley Fool, LLC. All rights reserved. The Motley Fool has a disclosure policy.