Why CarMax, Inc.'s Stock Declined Despite Beating Estimates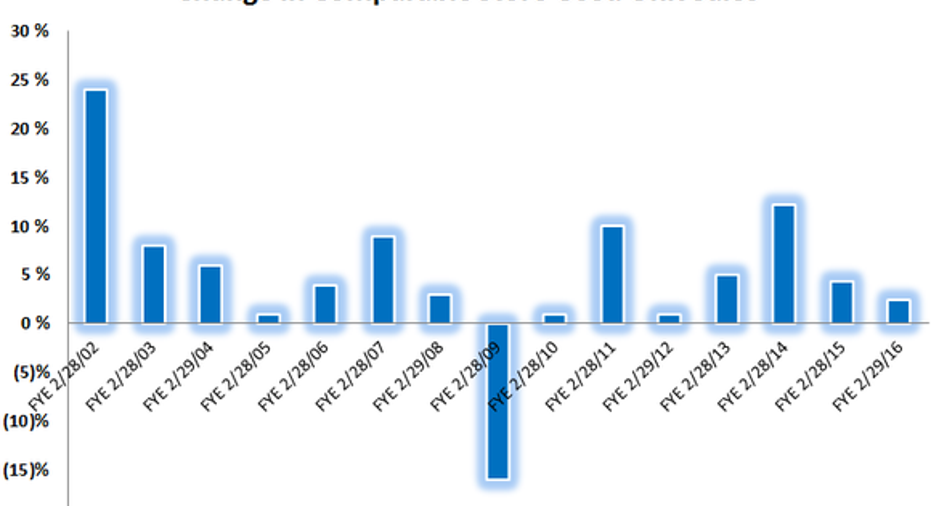 CarMax reported its fiscal year 2016 fourth-quarter and full-year results yesterday, and despite beating earnings expectations, the company's stock immediately traded down about 5%. CEO Tom Folliard added color in a press release:
Sure, CarMax posted a solid quarter and full year, but at some point, every company faces the reality that growth will slow and investors won't like it. Let's take a look at the top- and bottom-line results, as well as what parts of the business showed some weakness.
By the numbers Net sales and operating revenues increased 5.5% to $3.71 billion in the fourth quarter, and by 6.2% to $15.15 billion for the full fiscal year. Those increases were driven by total used unit sales rising 4% in the fourth quarter and 6.5% for the full year.
One thing that didn't sit well with investors was CarMax's slowdown in same-store sales during the back half of the year. Consider that for the full year, comparable-store sales were up 2.4%, but in the fourth quarter, that figure was only a 0.7% improvement compared to the prior year. For more context surrounding the full year's 2.4% growth, here's a long-term look at CarMax's same-store sales growth:
Chart by author. Data source: CarMax's investor resources.
Looking at the bottom line, during the fourth quarter, net earnings declined 1.5% to $141 million while net earnings per diluted share rose 6% to $0.71. For the full year, net earnings increased 4.4% to $623.4 million, or an 11% increase to $3.03 per diluted share.
Diving into the details Total gross profit moved 2.8% higher during the fourth quarter compared to last year's quarter, but that was primarily driven by the total used unit sales growing, not average gross profit per vehicle; used-vehicle gross profit per unit declined to $2,109 compared to last year's fourth-quarter $2,148 result.
Another factor for investors to look at was CarMax's SG&A expenses. Obviously, as store expansion is a large focus for the company, investors can expect SG&A expenses to rise accordingly because those new stores require more marketing and advertising expenses, and they aren't as efficient in store operations. Mostly thanks to CarMax's 10% increase in its store base since the beginning of last year's fourth quarter -- or 15 new stores -- its SG&A expenses increased 1.2% to $333.9 million in the fourth quarter. That increase in expense looks better than investors would think given the 10% increase in store count, because some of it was offset by a $14.2 million decrease in share-based compensation expense.
Also, looking at value returned to shareholders, CarMax repurchased 3.0 million shares of common stock during the fourth quarter, which brings the total to 16.3 million shares for $971.2 million during the fiscal year. At the end of the fourth quarter, Feb. 29, 2016, CarMax had $1.4 billion remaining available for repurchase under its current program.
Was CarMax's fourth-quarter result bad? That depends on the perspective of the investor. Yes, there was increasing pressure on CarMax's used-vehicle average gross profit, but that remains near historical highs. Yes, comparable-store sales slowed during the second half and SG&A expenses moved higher, but its overall growth story remains intact. Investors would be wise to keep an eye on how CarMax plans to fuel same-store sales through improved storefronts or providing more services online.
The article Why CarMax, Inc.'s Stock Declined Despite Beating Estimates originally appeared on Fool.com.
Daniel Miller has no position in any stocks mentioned. The Motley Fool recommends CarMax. Try any of our Foolish newsletter services free for 30 days. We Fools may not all hold the same opinions, but we all believe that considering a diverse range of insights makes us better investors. The Motley Fool has a disclosure policy.
Copyright 1995 - 2016 The Motley Fool, LLC. All rights reserved. The Motley Fool has a disclosure policy.