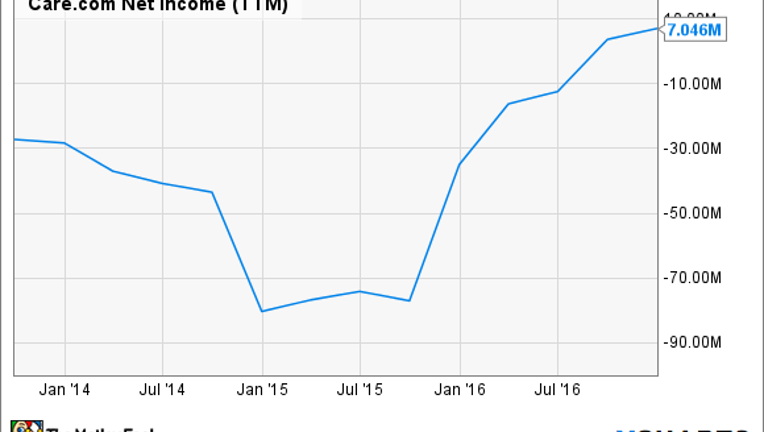 What happened
After the company reported first-quarter financials and updated its full-year financial guidance, shares ofCare.com(NYSE: CRCM) are jumping 17.7% as of 2:27 p.m. EDT.
So what
Care.com isn't a household name, but connecting caregivers to families might make it one someday. The company was started in 2007, went public in 2014, and last year, Alphabet's (NASDAQ: GOOG) (NASDAQ: GOOGL) venture capital arm became its biggest investor.
Today, that investment is paying off. Growing demand for caregivers translated into first-quarter sales of$43.4 million, up 10% from $39.3 million in the same quarter last year.
Image source: Getty Images.
Continuing operations kicked off $800,000 in income, up from a loss of $1.1 million one year ago, and adjusted earnings per share came in at $0.07, up from $0.01 last year.
Care.com also updated its full-year financial guidance following its Q1 performance. It now expects sales of between $171 million and $173 million and adjusted EPS of $0.35 to $0.38.For comparison, the company's sales were$161.8 million in 2016 and $138.7 million in 2015, and its adjusted EPS last year was$0.19.
CRCM Net Income (TTM) data by YCharts.
Now what
Families are increasingly seeking out qualified people to care for their aging baby boomer parents, and working moms and dads continue to look for trustworthy child care. These trends offer a lot of opportunity for Care.com to build on its position as a leading online source for caregivers, especially as people become more comfortable using online sites to find everything from the love of their life to contractors.
If you're contemplating the potential future upside opportunity that exists for Care.com, consider that the company reported58% year-over-year growth in organic search traffic in Q1 in spite of the ratio of marketing spend to sales falling to 44% from 50% a year ago.
Alphabet's involvement appears to be helping Care.com grow, and the company's improving profitability, despite R&D investments, makes this small-cap company a very intriguing stock to buy.
10 stocks we like better than Care.comWhen investing geniuses David and Tom Gardner have a stock tip, it can pay to listen. After all, the newsletter they have run for over a decade, Motley Fool Stock Advisor, has tripled the market.*
David and Tom just revealed what they believe are the 10 best stocks for investors to buy right now... and Care.com wasn't one of them! That's right -- they think these 10 stocks are even better buys.
Click here to learn about these picks!
*Stock Advisor returns as of May 1, 2017
Suzanne Frey, an executive at Alphabet, is a member of The Motley Fool's board of directors. Todd Campbell has no position in any stocks mentioned.His clients may have positions in the companies mentioned.The Motley Fool owns shares of and recommends Alphabet (A shares) and Alphabet (C shares). The Motley Fool has a disclosure policy.