Why Cameco Corporation Stock Rose 19% in November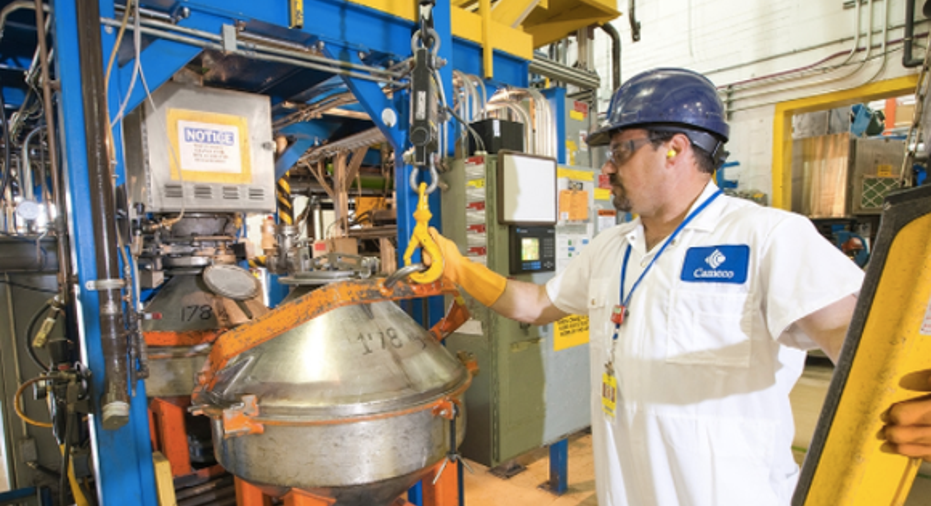 What happened?
Shares of uranium miner Cameco Corporation (NYSE: CCJ) rose by nearly 20% in November. That's not bad for a company that, despite the uptick last month, is down roughly 25% for the year. The thing is, third-quarter earnings, released on Nov. 2, were something of a mixed bag despite the market's clearly positive reaction.
Image source: Cameco Corporation.
So what?
Cameco reported earnings of 0.36 Canadian dollars per share in the third quarter, up from a loss of 0.01 a share last year. Adjusted earnings, which takes out one-time items, was 0.30 Canadian dollarsper shareversus 0.20 in the year-ago period. A good showing, to be sure, particularly since the company took plenty of time to highlight the ongoing troubles in the uranium market.
For example, it noted that supply is still too high, demand is weak, and, as you would expect, pricing is low. In fact, according to CEO Tim Gitzel, "Uranium prices are at the lowest levels we've seen in over a decade...." He summed up the situation pretty well when he added, "and that's making for difficult times in our market."
But Cameco's quarterly earnings report showed it is surviving this downturn reasonably well. Moreover, the report demonstrated the company's successful approach to adjusting to the current environment: ramping up production at newer, low-cost mines like Cigar Lake while pulling back at older, higher-cost mines. All told, Cameco was cash-flow positive in the quarter and through the first nine months of the year. It burned cash in the same periods last year:
Cameco production numbers. Image source: Cameco Corporation.
Now what?
You can see how investors would grab onto the positives in Cameco'squarterly earnings and push the company's shares higher. However, even Cameco was very clear, as the CEO's comment suggests, that times are still tough in the uranium market. There's no sign yet that a material turnaround is in the cards, even though the long-term outlook for the uranium industry remains fairly bright.
And it's worth noting that the bottom-line strength at Cameco was helped along by contract termination fees, a mixed blessing. Those fees are good for the current period, and strategically speaking, getting out of less-desirable contracts might be the right long-term move, but it means fewer sales down the line.
Investors were rightly enthusiastic about Cameco's third-quarter results, but if you plan to invest here, you still need to tread carefully. The storm simply isn't over yet.
10 stocks we like better than Cameco When investing geniuses David and Tom Gardner have a stock tip, it can pay to listen. After all, the newsletter they have run for over a decade, Motley Fool Stock Advisor, has tripled the market.*
David and Tom just revealed what they believe are the 10 best stocks for investors to buy right now... and Cameco wasn't one of them! That's right -- they think these 10 stocks are even better buys.
Click here to learn about these picks!
*Stock Advisor returns as of Nov. 7, 2016
Reuben Brewer has no position in any stocks mentioned. The Motley Fool has no position in any of the stocks mentioned. Try any of our Foolish newsletter services free for 30 days. We Fools may not all hold the same opinions, but we all believe that considering a diverse range of insights makes us better investors. The Motley Fool has a disclosure policy.