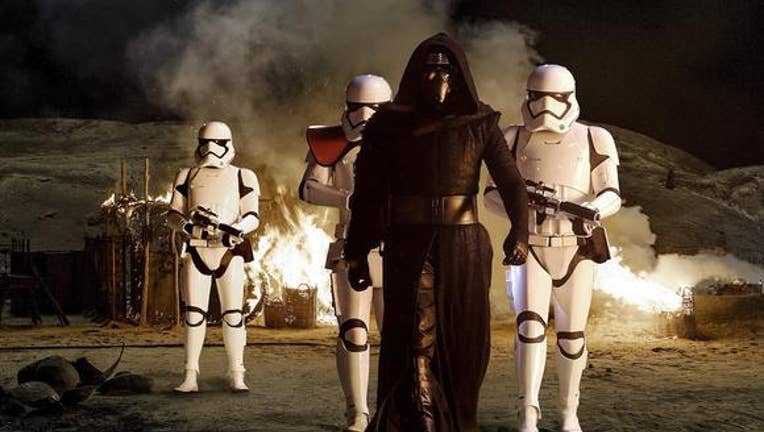 WaltDisney spent $4 billion buying LucasFilm and the rights toStar Warsfrom creator George Lucas, and the purchase could prove to be a better deal compared to the similar price it paid for Marvel.
While both franchises will prove to be well worth the money, there are reasons beyond the tremendous box office success ofStar Wars: The Force Awakens which suggest that buying Lucas' assets may ultimately prove to be the stronger acquisition.
He may not be Darth Vader, but new bad guy Kylo Ren is going to move a lot of toys. Source: StarWars.com
Star Wars movies are really bigWhile everyone expectedThe Force Awakensto be a big hit, there were no guarantees that it would shatter box office records, as it has gone on to do. The film, as of Jan. 4, was already the sixth highest-grossing movie of all time, according to Box Office Mojo, and was gunning to pass Avatarfor the all-time total domestic box office crown after only a little over two weeks in release. The latestStar Warstook only 16 days to cross $700 million in the United States versus 72 days forAvatar.
Because people actually likeStar Wars: The Force Awakens-- it has a 90% audience approval rating on Rotten Tomatoes -- it is unlikely to slow down anytime soon. The movie should blow past the nearly $2.8 billionAvatarmade during its run, easily becoming the highest-grossing film of all time. With a likely final total of above $3 billionThe Force Awakenswill nearly double the$1.51 billion made by Marvel's The Avengers, released in 2012.
That's important because while Marvel has three films that have crossed $1 billion globally, The Force Awakens looks to top the profit made for Disney from the roughly $4.1 billion earned by bothAvengersfilms andIron Man 3put together. That's because all of these films cost between an estimated $175 million and $250 million to make with another $150 million to $200 million in advertising costs. But once a film has been made and launched, the added cost of keeping it in theaters is minimal -- maybe just another ad buy. That means if you assume that each of these movies has a cost of $450 million and Disney retains 55% of the box office take -- 50% is more common, butStar Wars reportedlygot 60% during its opening weekend -- on $3 billion in box office, The Force Awakens would make around $1.2 billion. Meanwhile, the Marvel films would have a combined cost of $1.35 billion, giving them a roughly $900 million profit. The comic book company does have a bigger pipeline of two to three movies each year for the foreseeable future, but many will be comparatively mild hits like Ant-Man, which probably did not make all that much money in its theatrical release with a budget IMDB pegs at $130 million and at least a $100 million ad spend for $519 million in global box office revenue.
The Force Awakenspretty much guarantees that the next film in the new trilogy will be one of the biggest movies of all time and it should push interest in the first spin-off film -- Star Wars: Rogue One -- to an easy box office take of over $1 billion.
Star Wars is a merchandise monsterWhile I'm sure Disney has sold a lot of products tied into theAvengersuniverse, the numbers can't approach the retail phenomenon that isStar Wars.Disney has smartly tapped into the nostalgia many parents likely feel when it comes to Lucas' universe. It made buying newStar Warstoys an event, which kicked off Sept. 4, dubbed Force Friday, when it launch the first batch ofForce Awakensmerchandise.
"That day aloneStar Warsmerchandise sales are estimated to haveneared $1 billion," The Atlanticreported in late November. Overall, Star Wars merchandise sales could reach a potential $5 billionin the first year after the release of The Force Awakens, which could result in $500 million in licensing and retail revenue for Disney, according to Macquarie Securities analyst Tim Nollen as quoted in that article. And those predictions were made before the film was on its way to being the biggest movie ever.
Theme park rights are keyIn buying Marvel, Disney had to accept the fact that domestic theme park rights to its characters are held byComcast's Universal Studios. The company does make an undisclosed licensing fee on the properties, but that number is likely small compared to what it could generate with Marvel attractions in its Florida and California parks.
There are no similar rights issues with the LucasFilm characters and Disney is already building themedStar Warslands at Disneyland and at Disney's Hollywood Studios (DHS). These two 14-acre sets of attractions are the company's biggest single-theme expansion ever and they should give it an answer to Universal's extremely popular Harry Potter lands.
It's hard, if not impossible, to put an exact number on this, but theStar Warslands will likely help Disney take back the hot-theme-park title from Comcast's parks. It should also single-handedly revitalize DHS, which has struggled in recent years.
Disney will make money from both its Marvel and its LucasFilm purchases, but Star Wars is one of a kind when it comes to making money for the House of Mouse.
The article Why Buying Star Wars and LucasFilm Is the Best $4 Billon Disney Ever Spent originally appeared on Fool.com.
Daniel Kline has no position in any stocks mentioned. He is considering buying a lightsaber. The Motley Fool owns shares of and recommends Walt Disney. Try any of our Foolish newsletter services free for 30 days. We Fools may not all hold the same opinions, but we all believe that considering a diverse range of insights makes us better investors. The Motley Fool has a disclosure policy.
Copyright 1995 - 2016 The Motley Fool, LLC. All rights reserved. The Motley Fool has a disclosure policy.