Why Burlington Stores, Inc. Shares Jumped 11% Last Month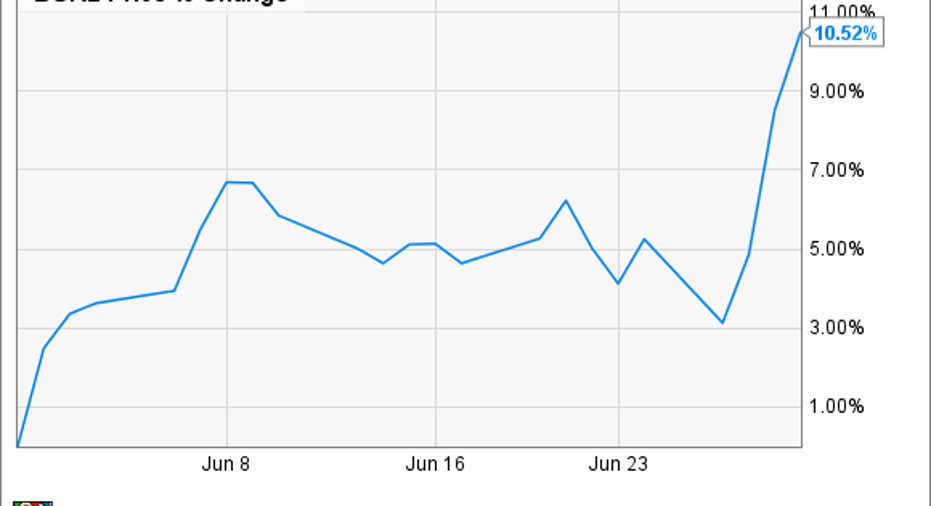 Image source: Burlington Stores.
What:Burlington Stores, Inc. moved up 11% according to data from S&P Global Market Intelligencelast month, boosted by bullish analyst notes and the market response to the Brexit vote. As you can see from the chart below, the stock flew higher in the market rebound following the U.K. referendum to leave the EU at the end of the month.
So what:Burlington Stores and its off-price peers such as TJX CompaniesandRoss Storeshave been among the strongest stocks in retail in recent years as the "treasure hunt" experience of shopping in the stores has been hard to replicate online. Burlington stock is up 167% since its 2013 IPO, and several analysts have called these retailers among the few that are "Amazon-proof."
Earlier in June, Goldman Sachs analyst Lindsay Drucker Mann noted that the handful of companies above has shown surprising strength at a time when other apparel retailers have struggled as the "model represents the cheapest way to get desired product to consumers." Deutsche Bank'sMike Baker echoed that endorsement a few days later, noting that the off-price segment has a lot of room for growth.
Finally, Burlington was one of the few stocks to actually gain in the market crash following the Brexit vote, which seems to be a reflection of its insulation from any negativity in the U.K. or Europe or the potential macroeconomic fallout from the vote.
Now what:Indeed, Burlington and its larger peers have put up consistent same-store sales growth at a time when much of the apparel sector is suffering. The series of bankruptcies by retailers such as Sports Authority and Aeropostale and store closures by many others could open up more real estate, making it easier for Burlington to expand. With same-store sales growth at 3%-3.5% expected for the year, the company should continue delivering solid results and taking share from competitors.
The article Why Burlington Stores, Inc. Shares Jumped 11% Last Month originally appeared on Fool.com.
Jeremy Bowman has no position in any stocks mentioned. The Motley Fool owns shares of and recommends Amazon.com. Try any of our Foolish newsletter services free for 30 days. We Fools may not all hold the same opinions, but we all believe that considering a diverse range of insights makes us better investors. The Motley Fool has a disclosure policy.
Copyright 1995 - 2016 The Motley Fool, LLC. All rights reserved. The Motley Fool has a disclosure policy.